Wave of Iraq bombings kill at least 65 a decade after US-led invasion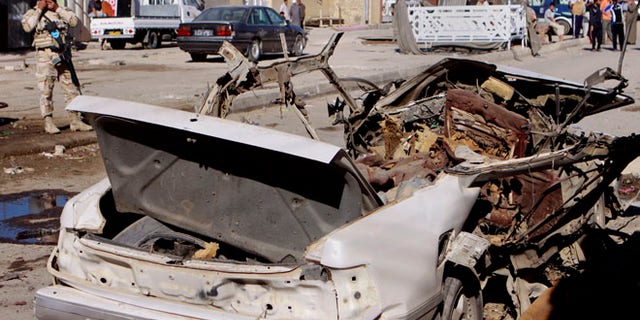 BAGHDAD – A wave of bombings tore through Iraq on Tuesday, killing 65 people on eve of the 10th anniversary of the U.S.-led invasion and showing how unstable Iraq remains more than a year after the withdrawal of American troops.
It was the deadliest day of attacks in Iraq since Sept. 9, when insurgents unleashed an onslaught of bombings and shootings across the country that left 92 dead.
Violence has ebbed sharply since the peak of Sunni-Shiite fighting that pushed the country to the brink of civil war in 2006-2007. But insurgents maintain the ability to stage high-profile attacks while sectarian and ethnic rivalries continue to tear at the fabric of national unity.
The symbolism of Tuesday's attacks was strong, coming 10 years to the day, Washington time, that former President George W. Bush announced the start of hostilities against Iraq. It was already early March 20, 2003, in Iraq when the airstrikes began.
The military action quickly ousted Saddam Hussein but led to years of bloodshed as Sunni and Shiite militants battled U.S. forces and each other, leaving nearly 4,500 Americans and more than 100,000 Iraqis killed.
A decade later, Iraq's long-term stability and the strength of its democracy remain open questions.
The country is unquestionably freer and more democratic than it was during Saddam's murderous reign. But instead of a solidly pro-U.S. regime, the Iraqis have a Shiite-led government that is arguably closer to Tehran than to Washington and is facing an outpouring of anger by the Sunni minority that was dominant under Saddam and at the heart of the insurgency.
Tuesday's apparently coordinated attacks included car bombs and explosives stuck to the underside of vehicles. They targeted government security forces and mainly Shiite areas, small restaurants, day laborers and bus stops over a span of more than two hours, according to police and hospital officials.
There was no immediate claim of responsibility for the blasts, but they bore hallmarks of Al Qaeda in Iraq. The terror group, which favors car bombs and coordinated bombings intended to undermine public confidence in the government, has sought to reassert its presence in recent weeks.
The violence started at around 8 a.m. Tuesday, when a bomb exploded outside a popular restaurant in Baghdad's Mashtal neighborhood, killing four people, according to police and hospital officials. It blew out the eatery's windows and left several cars mangled in the blood-streaked street.
Minutes later, a roadside bomb hit a gathering point for day laborers in the New Baghdad area, killing two of them.
The sprawling Shiite slum district of Sadr City was hit by three explosions that killed 10 people, including three commuters on a minibus.
Hussein Abdul-Khaliq, a government employee who lives in Sadr city, said he heard an explosion and went out to find the minibus on fire.
"We helped take some trapped women and children from outside the burning bus before the arrival of the rescue teams. Our clothes were covered with blood as we tried to rescue the trapped people or to move out the bodies," he said. "Today's attacks are new proof that the politicians and security officials are a huge failure."
The deadliest attack was a 10 a.m. car bombing near the Ministry of Labor and Social Affairs in Baghdad's eastern Qahira neighborhood, which killed seven people.
Another car bomb exploded outside a restaurant near one of the main gates to the fortified Green Zone, which houses major government offices and the U.S. and British embassies, killing six people, including two soldiers. Thick black smoke could be seen rising from the area as ambulances raced to the scene.
Just north of the capital, a mortar shell landed near a clinic north of Baghdad in Taji, killing two people, while a roadside bomb hit an army patrol in Tarmiyah, killing a soldier. Another roadside bomb missed a police patrol in Baqouba, hitting a passing car. One passenger was killed.
A car bomb also exploded near a bus stop south of the capital in Iskandiriyah, killing five people. Two policemen were killed when another car bomb hit a security checkpoint near the town.
In the northern city of Mosul, a suicide bomber set off his explosive belt near police Maj. Ghazai al-Jubouri, the head of a local police force in the area, killing him and two bodyguards and wounding four civilians.
Attacks elsewhere in Baghdad killed 23 people in the mainly Shiite neighborhoods of Hussainiyah, Zafarniyah, Kazimiyah, Shula, al-Shurta and Utaifiya.
Underscoring the political tensions, Iraq's Cabinet also decided Tuesday to postpone upcoming elections in two provinces dominated by the country's minority Sunnis for up to six months.
The two provinces affected, Anbar and Ninevah, have been at the center of the nearly three-month-long protests against Iraq's Shiite-led government. Provincial elections were scheduled to go forward elsewhere on April 20.
The decision followed requests from the political blocs in the provinces, government spokesman Ali al-Moussawi said.