Wave of bombings kills 25 across Iraq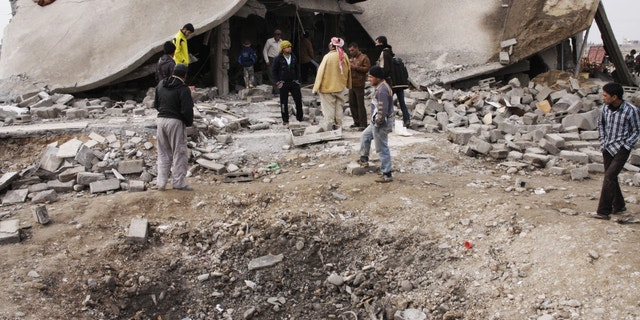 BAGHDAD – A wave of bombings across Iraq on Monday hit a number of targets, including residents of ethnically disputed areas, killing 25 people and wounding dozens.
The attacks deepen fears that militants are seeking to reignite ethnic and sectarian violence in the country, where tensions remain high over areas contested between Iraq's central government and the Kurdish minority. Also, deadly violence continues between the two dominant ethnic communities -- Sunni and Shiite Muslims.
The deadliest of Monday's attacks took place in al-Mouafaqiyah, a village inhabited by families from the Shabak ethnic group. Seven people were killed and 11 were wounded in the bombing, according to police officials.
The village lies near the city of Mosul, 225 miles northwest of Baghdad, and is claimed by Arabs, Turkomen and Kurds. The Shabak have their own distinct language and religious beliefs.
Elsewhere in the north, two car bombs went off in a majority Turkomen neighborhood in the city of Tuz Khormato, killing five people and wounding 26, said Mohammed al-Asi, a spokesman for Salahuddin provincial council.
Like the area near the other attack, Tuz Khormato, about 130 miles north ofBaghdad, has a mix of Arabs, Kurds and Turkomen competing for control of the city.
Tuz Khormato borders the autonomous Kurdish region. Last month, it was the scene of a shootout between Kurdish guards and Iraqi police that killed one civilian. The Iraqi military and Kurdish fighters responded by moving additional troops into disputed areas, raising the specter of further clashes.
Also Monday, police said a roadside bomb hit a bus carrying Lebanese Shiite pilgrims near Samarra, killing one Lebanese national and the Iraqi driver and wounding eight others, including five Lebanese. Also, a car bomb went off on a bus carrying Iranian pilgrims heading to Samarra, killing two, including an Iranian national.
Another car bomb went off in a commercial area in downtown Baghdad in the afternoon, killing three people and wounding 10, police and health officials said.
Shortly after sunset, a car bomb exploded near an open-air car market in northeastern Baghdad, killing six people and wounding 30 others, said police.
Medics in nearby hospitals confirmed the casualties. All officials spoke on condition of anonymity because they were not authorized to speak to reporters.
On Sunday, a series of attacks targeting two other cities in disputed northern areas left at least eight dead and dozens wounded.
It was unclear who was behind the latest violence, though Sunni Arab insurgents frequently use coordinated bomb attacks to try to undermine the Shiite-led government's authority.