War criminal Slobodan Praljak's courtroom suicide stumps investigators, prosecutors say
The probe into how a former Bosnian Croat military chief was able to smuggle poison into a United Nations courtroom and take his own life has left investigators stumped, prosecutors said Friday.
Slobodan Praljak, 72, a former commander in Bosnia's 1992-95 war, committed suicide Nov. 29, 2017, after proclaiming his innocence and then drinking from a bottle containing potassium cyanide. Praljak collapsed in court and died in a Dutch hospital hours later.
Television cameras caught Praljak drinking from the bottle moments after judges at the international criminal tribunal in The Hague reconfirmed a 20-year sentence.
He yelled, "I am not a war criminal" while his lawyer shouted: "My client says he has taken poison."
A months-long investigation failed to establish "in what way and at what point in time Mr. Praljak had obtained the potassium cyanide he used," the Hague Public Prosecution Service said in a statement.
Praljak's U.N. cell was searched and surveillance camera footage from the court was studied by police and prosecutors. Officials also interviewed witnesses.
Prosecutors determined no criminal offenses were committed in the former general's suicide.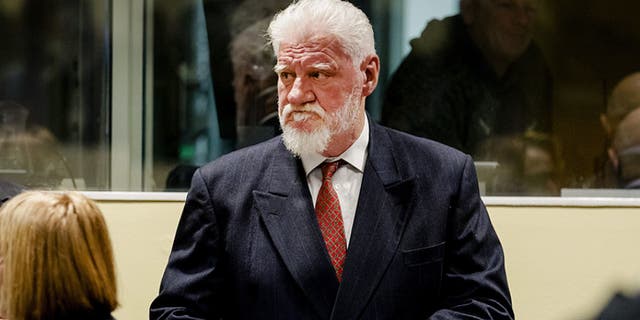 A handwritten letter to his family was found in his cell, prosecutors said. He wrote that "he had already decided to put an end to his life a long time ago, should he be found guilty."
An internal investigation determined staff at the United Nations Detention Unit followed all relevant procedures.
Praljak was charged at the International Criminal Tribunal for the former Yugoslavia with ordering the destruction of Mostar's 16th-century bridge in November 1993. Judges said the bridge's destruction "caused disproportionate damage to the Muslim civilian population."
The November hearing was the final case at the groundbreaking tribunal before it was set to end last December. The tribunal, which had previously convicted former Bosnian Serb military chief Gen. Ratko Mladic of genocide and other crimes, was set up in 1993, while fighting still raged in the former Yugoslavia. It indicted 161 suspects and convicted 90 of them.
The appeals judges upheld a key finding that late Croat President Franjo Tudjman was a member of a plan to create a Croat mini-state in Bosnia.
The original trial began in April 2006 and provided a reminder of the complex web of ethnic tensions that fueled fighting in Bosnia and continues to create friction in the country even today.
Fox News' Lucia I. Suarez Sang and the Associated Press contributed to this report.
1