War crimes case vs. Assad far better than ones for Milosevic, Charles Taylor, US official says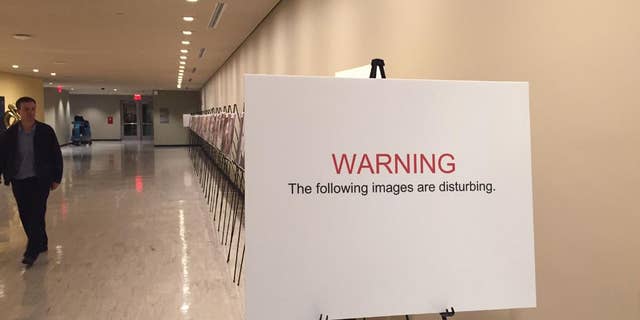 UNITED NATIONS – The case against Syrian President Bashar Assad is much better than the one against Slobodan Milosevic of Serbia or Charles Taylor of Liberia, both of whom were indicted by international tribunals, the U.S. ambassador-at-large for war crimes issues said Tuesday.
Stephen Rapp spoke to reporters at the U.N. opening of a graphic exhibit of photos of detainees who have died in Assad's prisons since the start of Syria's conflict four years ago.
The Syrian crisis enters its fifth year this month. Next week, a U.N. commission of inquiry is expected to announce to the U.N. Human Rights Council in Geneva whether it will make public its secret list of alleged war criminals in Syria to press for justice for thousands of victims.
Rapp said that list should include Assad: "One could take the responsibility for these killings clear to the top of the regime," he said.
But he warned that justice for Syria's victims could take decades. "I'm still dealing with some Nazi cases," he said.
Rapp led the prosecution of Taylor, the former Liberian president who in 2012 was convicted by an international court of war crimes and crimes against humanity related to his involvement in neighboring Sierra Leone's civil war. He was sentenced to 50 years in prison.
Milosevic, the former Serbian president widely seen as the driving force behind the violent breakup of Yugoslavia, died in his cell in 2006 before the end of his four-year trial in front of a Yugoslav war crimes tribunal at The Hague.
In the case of Syria, diplomats and U.N. officials have struggled to find a path toward holding officials and others accountable. The U.N. estimates that 220,000 people have been killed in the conflict that began with protests against Assad.
"It will take an international court or Syrian court to really bring justice," Rapp said. But last year's attempt by the U.N. Security Council to refer Syria's situation to the International Criminal Court failed when permanent council member Russia, an Assad ally, vetoed the move along with China.
Some council members have said it's time to try again for an ICC referral.
If that fails, the commission of inquiry has said the council should urgently consider establishing an international tribunal to deal with alleged war crimes in Syria, possibly like those for the former Yugoslavia, Sierra Leone or Cambodia.
Rapp said it's certain that more than 100 people in Syria, and perhaps several hundred, are responsible for crimes on a massive scale.
"They will have justice," he said of Syria's citizens. "Will it be the justice that everyone would hope for? No. But will it be possible to bring serious offenders of these crimes to justice? That day will come."
The United States and 14 other countries, including fellow Security Council members Britain, France and Lithuania, sponsored the new photo exhibit at the U.N.
The bodies of men, women and children in the images show signs of torture and starvation, and Rapp said there is no doubt about the authenticity of the photos, which are among tens of thousands smuggled out of Syria by a former crime scene photographer for its military.
"It reminds us all of our collective failure to prevent atrocity crimes in Syria over the past four years," Ambassador Alya Ahmed Saif Al-Thani of Qatar, another sponsor, told the crowd.