VP says South Sudan isn't a 'dumping place' for peacekeepers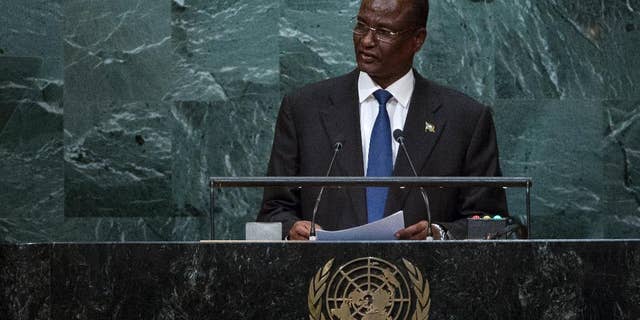 NEWYou can now listen to Fox News articles!
UNITED NATIONS – South Sudan's vice president dismissed the need for peacekeepers in his country, insisting Thursday that peace has been achieved after a civil war that broke out in 2013 and produced more than 1 million refugees.
Taban Deng said South Sudan does not need the 13,000 U.N. peacekeepers already in this country. He said a new Security Council resolution that called for 4,000 more peacekeepers "didn't take into consideration our concerns as a nation."
"We already have 13,000 U.N. troops in South Sudan who are sitting idle, not doing anything because there's a problem with their mandate, and there's also a problem with how they were selected," Deng said in an interview with The Associated Press on the sidelines of the U.N. General Assembly.
He added that his country isn't "a dumping place" for peacekeepers "who can't really help."
"I don't think South Sudan needs peacekeeping," Deng said, insisting that it "isn't a failed nation."
U.N. peacekeeping chief Herve Ladsous disagreed with Deng's assessment, pointing out that South Sudan's government has made contradictory statements since the government signed a joint statement with the Security Council endorsing the additional troops.
"We don't have a clear situation but I can tell you we are sparing no effort to move toward generating a force because the Security Council has made it very clear that we should do so," he said.
"My country is peaceful, there is peace in South Sudan," Deng also declared, asking international donors to help it out with relief measures and nation-building initiatives.
U.N. Secretary-General Ban Ki-moon described a starkly different scenario earlier this week at a high-level U.N. meeting on the humanitarian situation in South Sudan.
"For years, South Sudan has struggled to gain its independence. Now it's struggling for survival," Ban said. "Rarely have such high hopes been squandered so quickly."
South Sudanese President Salva Kiir appointed Deng in July to replace opposition leader Riek Machar, who was fired in a controversial decision and fled north to Sudan.
Deng said Machar is welcome to return to South Sudan. "He's South Sudanese, he can decide to come to Juba anytime," referring to South Sudan's capital.
South Sudan became the world's youngest nation in 2011, but civil war broke out between the Dinka and Nuer peoples in December 2013.
A peace agreement was signed in August 2015 but fighting continues. Tens of thousands have been killed.
____
Associated Press writer Michael Astor contributed to this story.