Voices for compromise to resolve Thailand's precarious political crisis struggle to be heard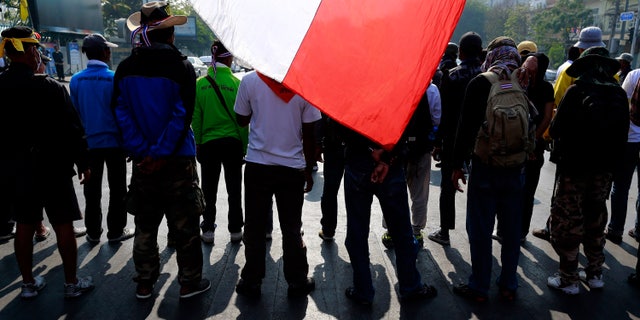 BANGKOK – While thousands of protesters occupied major intersections around Thailand's capital to demand that the government scrap upcoming elections and step down, dozens of people donned white T-shirts and lit candles at a small park to call for peace and compromise to end the bitter and sometimes violent political conflict.
"What are you going to do on Feb. 2?" a man shouted to the crowd Thursday night. "Go to vote!" they responded, raising their candles high.
The "White Shirt" movement is intended to give voice to Thais who are neither anti-government protesters nor pro-government "Red Shirt" activists, who have vowed to hit the streets themselves if Prime Minister Yingluck Shinawatra is overthrown. The White Shirts say they rally for neither side, but see the Feb. 2 elections, followed by political reforms, as the only way to defuse a volatile moment in the Southeast Asian country's history.
Some White Shirt events have drawn hundreds of people, but both sides in the political battle have chipped away at the message. The government and some prominent Red Shirts have embraced the movement, undercutting its claims of neutrality, while anti-government protesters respond with skepticism and mockery.
"The situation is very bad. Family members are no longer listening to each other because of the different political views," said Araya C. Chan, a retired businesswoman who has attended three such candlelight vigils. "... It's like fire is burning our house little by little. We are out here to help put it out before it destroys us all."
The White Shirts' limited impact highlights how little space there seems to be for anything but aggressive partisanship. For eight years, Thailand's stability has been shaken by a sometimes-violent struggle for power between supporters and opponents of former Prime Minister Thaksin Shinawatra, accused of corruption and deposed by a military coup in 2006.
Thaksin's allies, led by Yingluck, his sister, now control the government, but their opponents for the past three months have been mounting an aggressive campaign to force them out. It began with massive protests, and since Jan. 13 protesters have attempted to shut down key parts Bangkok and to keep government offices from functioning.
The protesters are led by Suthep Thaugsuban, a former high-ranking opposition-party official who wants Yingluck's government to make way for an unelected council of "good people" to institute reforms to fight corruption. Yingluck dissolved the House of Representatives, triggering new elections, in hopes of easing the conflict, but Suthep has vowed to stop the vote and has refused to negotiate.
The main opposition party has boycotted the election, which Yingluck's party had been widely expected to win in any case. Anti-government protesters have appealed for help from the military and the courts, both strongholds of anti-Thaksin sentiment that have played key roles in past coups.
Nine people from both sides have been killed and hundreds hurt in violence surrounding the unrest. In 2010, when it was Thaksin's supporters who occupied Bangkok's streets in an effort to force his political foes from power, about 90 people died and about 1,800 were hurt.
While the cycle of street protests has only hardened many political views, some Thais, including White Shirts, want to promote compromise rather than confrontation.
"At these events there were people who hated the Red Shirts but who didn't like the Yellow Shirts. People like this do exist. And these people in the middle ground are trying to find some place to stand in society," said Watinee Chaithirasakul, a textile entrepreneur who has attended several White Shirt-style events.
But they seem like voices in the wilderness, and have been accused of being dupes or frauds by anti-government protesters. Nor are they helped by the close embrace of the government's television station, which trumpets every White Shirt event at length.
"People joining these events are mixed," said Kamnoon Sitthisaman, a senator and a leader of the anti-Thaksin movement. "There are people who are genuinely concerned about violence, which I respect. But some are Red Shirts just changing their clothes before lighting the candles."
The vigils were originally organized by peace activist Kittichai Ngamchaiphisit and his friends, in hopes of getting people allied with neither party to speak out. After the first fatalities connected to the political strife in November, they formed a group called "It's Enough: Stop Demonstrations that Create Conditions for Violence."
"We are deeply disturbed by the use of violence during mass demonstrations, no matter which sides stage it", Kittichai said.
White Shirts at Thursday's vigil sang songs, including John Lennon's "Imagine," and called for dialogue.
"I came out here because I want an election. It's the only solution for the country. (The protesters) said they are calling for their rights but they are violating other people's rights, too," said Taninchat Chalermporn, a 24-year-old university student. "Corruption should be solved through other means, not through divisiveness or hatred."
Gothom Arya, a veteran social activist and lecturer at Mahidol University's Institute of Human Rights and Peace Studies, said maintaining an independent voice is a delicate enterprise.
"Those who want to voice an opinion that's different from the two sides of the conflict are being cautious because first, they are afraid of 'the voice in disguise,' meaning those who tried to exploit the neutral movement; second, they don't want to make the situation more complicated," he said. "They want to do simple things, like lighting candles, releasing balloons, or wearing white shirts."
He added that their message is not something anti-government protesters are willing to hear. "Right now they only want sympathizers, so they aren't listening to any voices different from their own."