Vladimir Putin was stunt man in 1970s movies, report says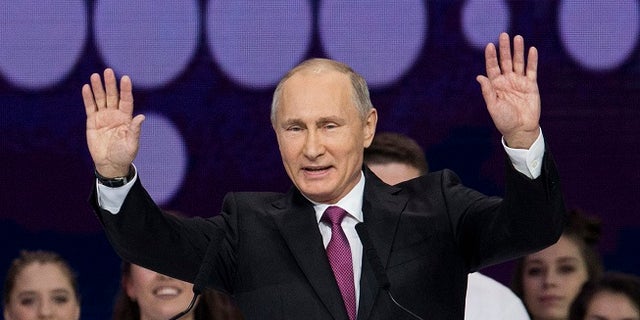 Russian President Vladimir Putin is seen doing so many "manly things" extensive photo galleries exist online devoted to pics of Putin practicing Judo, hunting (shirtless), riding a horse (shirtless), flying in a motorized hang glider, examining a shipwreck in a submersible and taming tigers and polar bears.
But now we may finally know where he gets his adventurous spirit: The ex-KGB agent worked as a stuntman in the 1970s to earn extra money while at college.
Vasily Shestakov, a former athlete, a longtime friend of Putin's and the president of the International Sambo Federation, told Dozhd the Russian leader had done stunt work for three movies, including 1972's "Izhora Batallion" and 1974's "Blockade." Shestakov could not recall the third movie Putin was involved with.
Shestakov said he and Putin portrayed German soldiers in the two films.
PUTIN: TRUMP-RUSSIA 'COLLUSION' TALK UNDERMINING US SYSTEM
"We were in 'Izhora Batallion' and 'Blockade' together," Shestakov said. "We were paid good money for that time. I was paid 110 rubles (around $132 U.S. dollars) a month in my engineer's job, but when I was working on movies, I made 75 rubles (around $95 U.S. dollars) a day. That was a lot of money."
Alexander Massarsky, a consultant at Lenfilm, said the company hired athletes to do stunts for its films.
"There was no method in the Soviet Union about stunts in the movies. What happened abroad -- this was not shared with us [due to] the Iron Curtain," Massassky said. "Sometimes they brought some reshuffled pale photos from some kind of films. We went our own way, stuffing our bumps, and learning from each other."
Nikolai Vashshilin, a former athlete who became a professional stuntman, also told Dozhd that Putin performed stunts. He also claimed to have a photo of Putin working on the set of a film, but the picture's quality makes it difficult to determine if the man is Putin.
UNDER PUTIN, RUSSIA INCREASES CLOUT IN THE MIDDLE EAST
Dmitry Pesko, a spokesman for the Kremlin, told Dozhd he had no knowledge of Putin's movie work.
Artemy Agrafenin, the press secretary for Lenfilm, told the Russian media outlet they could not find a record of Putin in its system but said, "it does not mean he did not act in film."
The Russian media outlet noted many university students in the Soviet Union at the time did work on films to make extra money. Students with an athletic background had the opportunity to make more money in stunt work.