Violent Youth Clash With Police in Warsaw on Poland's Independence Day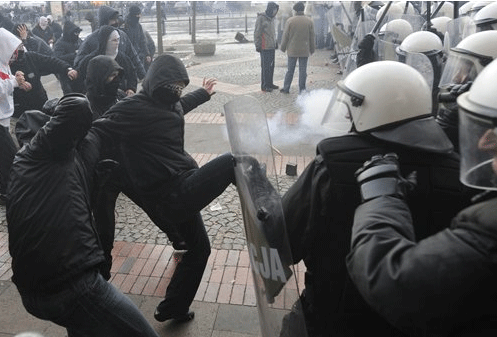 NEWYou can now listen to Fox News articles!
Warsaw, Poland – Violent clashes erupted in Warsaw on Friday as right-wing extremists, football hooligans and anarchists attacked police with cobblestones and glass bottles during marches commemorating the country's Independence Day.
Marches by far-right and nationalist groups on the key national holiday have grown in size in recent years, with a growing number of left-wing protesters also turning out to oppose them.
This year the marches were seen as a major test of the country's security capabilities before the Euro 2012 football championship, which Poland will co-host with Ukraine next summer.
At least 21 people were taken to hospitals with injuries following the clashes. Several police officers were also injured.
Police responded to the attacks with pepper gas and water cannons, and they arrested more than 150 people, said police spokesman Mariusz Sokolowski.
Dressed in black, and with scarves hiding their faces, young people threw bottles, firecrackers and stones at riot police in downtown Warsaw, where groups of rightist and leftist activists were holding separate marches.
Some masked people set fire to two news transmission vans belonging to Polish TV broadcasters.
Police brought in reinforcements from eight other Polish cities and their presence was highly visible. Some patrolled on horseback while many others surrounded protesters carrying truncheons and wearing riot gear.
Prime Minister Donald Tusk vowed to make sure those arrested for attacking police are severely punished, his spokesman Pawel Gras said.
The most violent clashes Friday appeared to be the work of far-right protesters and football hooligans. Police said the situation was brought under control after they used water cannons and pepper gas.
Earlier in the day, a separate group attacked police and dozens were detained. Many among them were anarchists from Germany, police spokesman Maciej Karczynski said.
Nine officers were injured, including three who were hospitalized with serious injuries, according to Mariusz Sokolowski.
An ambulance service official, Marek Niemirski, said 21 people had been hospitalized in Warsaw.
Among the injured was Patryk Bartoszewski, a 19-year-old observer who had crouched down to take photos of the clashes when a man in black kicked his camera into his face. Bartoszewski stood on the side of a street holding an ice pack to his bleeding face as he waited for an ambulance.
Bartoszewski was later taken to a hospital where he awaited treatment alongside two far-right activists -- one who was attacked by a German anti-fascist protester and the other whose hand was injured after he forgot to throw firecrackers he was holding.
Earlier in the day, President Bronislaw Komorowski called for a day free of aggression as he reviewed troops and laid a wreath to fallen soldiers during state observances in downtown Warsaw. Troops -- some in historic uniforms and on horseback -- then held a parade through the city as thousands of Warsaw residents turned out to watch.
Friday marks 93 years since Poland regained independence in 1918 after more than a century of foreign rule by Russia, Austria and Prussia.