Violent Paris May Day protests leaves cars torched, McDonald's smashed; more than 100 arrested
More than 100 people were arrested in Paris following violent May Day protests that saw at least six cars torched, a McDonald's restaurant smashed up and widespread vandalism.
Police said those in custody Wednesday are suspected of multiple offenses, including carrying prohibited weapons and firing projectiles.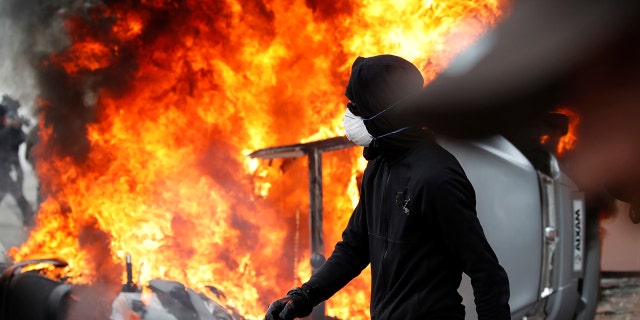 Paris Police Prefect Michel Delpuech said far-left anarchist groups, known as Black Blocs, hijacked a peaceful protest against reforms by French President Emmanuel Macron.
Officials said about 1,200 masked and hooded protesters took to the streets, swarming local shops, smashing windows and even torching a McDonald's near Austerlitz station.
Various vehicles and a car dealership were set ablaze and walls were defaced with graffiti.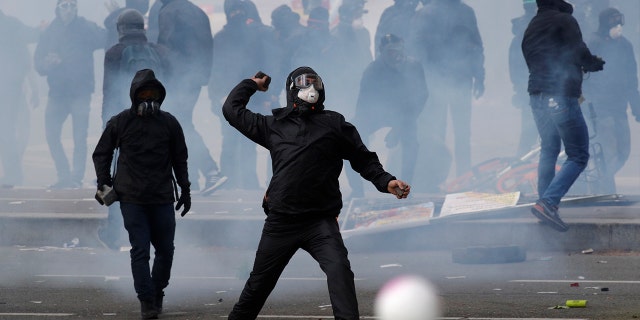 "The desire of the radical activists was to spiral the day out of control," Delpuech said.
Tear gas and water cannons were used against the protesters in an effort to disperse them.
Though several people were injured – including a police service worker – and even hospitalized, France's Interior Minister, Gerard Collomb, said Wednesday on France 2 Television he was pleased "no one was seriously injured."
Opposition figures seized upon Macron's absence – on a visit to Australia – to paint an image of disorder in a country without a leader amid criticism that police did not act quickly enough to pacify the violence.
Macron responded from Sydney: "There is a government. There is a state that's being run and it will continue to react."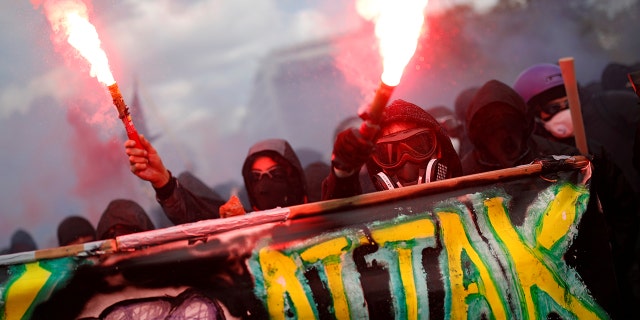 Government spokesman Benjamin Griveaux criticized the protesters for covering their faces.
"When you have sincere convictions, you demonstrate with your face unmasked," he said, according to the BBC. "Those who wear hoods are the enemies of democracy."
Elsewhere, far-right leader Marine Le Pen set out a vision of "another Europe," warning the EU is having "catastrophic consequences for our countries." Le Pen used Nice – a French Riviera hub that boasts a diverse population – to forward her anti-immigration stance, saying it has "suffered from a very strong pressure from migration that has partly changed the face" of the city.
The Associated Press contributed to this report.