Violent demonstrations in Bangladesh leave more than 100 student protesters injured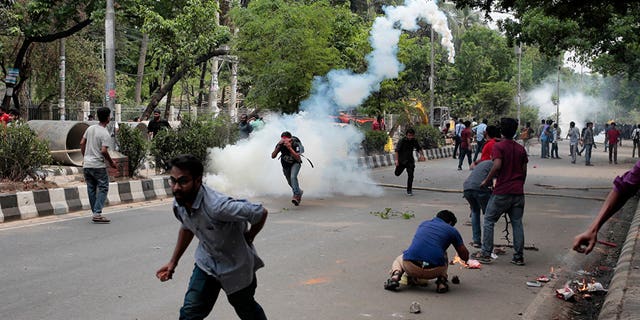 Bangladesh's universities have become the latest battleground between student protesters and government forces.
In a scene emblematic of western college protest movements of the past, students in Bangladesh's largest cities staged sit-ins and boycotted classes.
In one of the largest protests faced by Prime Minister Sheikh Hasina in her 10 years as head of state, police have been criticized for their use of rubber bullets, fire hoses, and tear gas. Throughout Sunday and early Monday, students vandalized university buildings, torched two cars, and ransacked a fine arts institute, according to senior police officer Azimul Haque.
The protest began as a backlash against the government's decision to set aside 56 percent of civil service jobs for disadvantaged minorities and families of veterans who served in the 1971 war for independence. This policy change means that university graduates now will have to compete for only 44 percent of all civil service jobs.
Bangladeshi students and new graduates now will face even larger odds to secure a career in their native country.
According to a study by the Economist Intelligence Unit, Bangladesh's unemployment rate for college graduates was an alarming 47 percent in 2015. In addition, the EUI measured female working-age participation in the labor market at only 35 percent.
The policy only compounds to the brain drain that Bangladesh and other Asian countries already face. According to a study by the United Nations Educational, Scientific, and Cultural Organization (UNESCO), 90 students leave Bangladesh every day to study abroad. From 2006 to 2016, the number of foreign, university-bound students doubled to more than 33,000.
The World Bank estimates that only 4 percent of Bangladeshi workers have higher than a secondary education.