Video of baby Jesus dancing to cumbia music angers Catholic Church in Mexico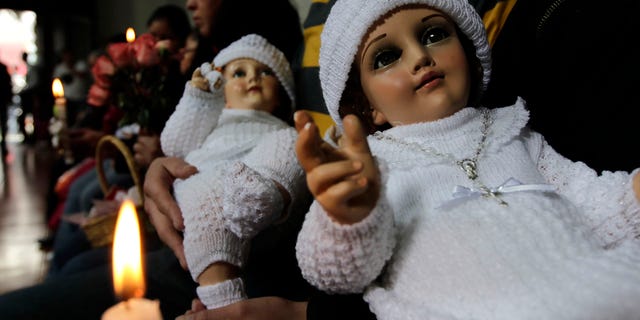 A video showing a ceramic figure of baby Jesus dancing to a fast-paced salsa tune has incensed the Catholic Church in Mexico. Some are even demanding jail time for the person who posted it on YouTube, where it's been viewed more than 4 million times.
The low–quality, 38-second video was recorded at a folk art shop, where someone seemingly holds up the doll and makes him dance to "Pasito Perron," a cumbia-style Mexican hit by Dinastia Mendoza.
Hugo Valdemar, a spokesman for the Catholic Church, is among those considering bringing charges against the author of the clip. He said it is sacrilegious and the music used "belongs to the devil."
He said there is a risk that the sacred image will be identified as a toy and the mockery will continue and grow.
MEXICO'S CATHOLIC CHURCH CALLS FOR SEARCH FOR MISSING PRIEST
However, the debate is only feeding the Pasito Perron frenzy – now internet users are openly challenging the Church and have called via Facebook to a massive dance on March 25 at Mexico City's Zocalo, right in front of the city's Cathedral. They are asking to bring their own baby Jesus to the party.
The video was posted more than a year ago but has gained strength now.
"I THINK I'LL GO TO HELL FOR THIS ... BUT IT MAKES ME LAUGH SO MUCH," reads the description of the video originally shared on Dec. 29, 2015.