Video appears to show world's most powerful rifle in hands of Syrian rebels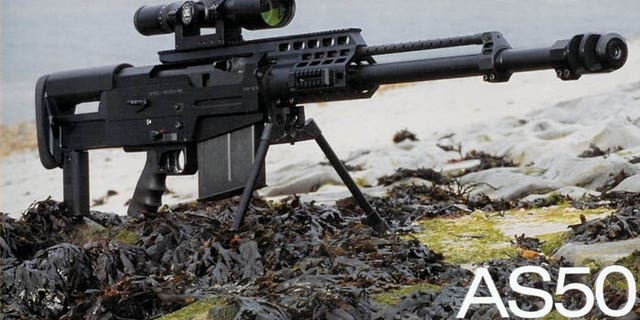 New YouTube video from the Syrian battlefield shows rebels firing what appears to be the same high-powered sniper rifle favored by U.S. Navy SEALs, leaving some experts wondering who the ragtag army of insurgents might train the guns on in the future.
The British-made AS-50, accurate from a distance of 20 football fields, is made for British Special Forces and has been used by Navy SEALs. The video shows Syrian rebels, who are aligned with Al Qaeda, firing guns that look like the AS-50 and shouting "Alahu akbar." Even if the rifle is a cheap knock-off of the AS-50, it has raised questions about who is supplying such devastating hardware.
"The video, showing jihadist rebels of the 'Descendents of the Prophet Brigade' firing one of the world's most effective sniper rifles, should be cause for alarm," said David Reaboi, of the Washington-based Center for Security Policy. "We don't know who has been supplying this group (or the myriad others) with these weapons but, given the jihadist ideology of these groups, it's only a matter of time until they're turned on Americans or our allies and interests."
The AS-50 set a reported world record when a member of the British Household Cavalry in Afghanistan's Helmand province killed two members of the Taliban with successive bullets over a recorded distance of more than 1.5 miles, though the record is disputed.
The Free Syrian Army has been receiving weapons from Qatar, Saudi Arabia, and Turkey - all close allies of the U.S. But the U.S. has repeatedly stated that it has sent no weapons to the opposition forces.
[pullquote]
The U.S. State Department has acknowledged directly providing $385 million support to the Syrian people, including "emergency medical care and medical supplies, food aid, and winterization supplies like blankets and heaters for those affected by the crisis." The site also reports that "over 4,000 major pieces of equipment have been provided, mostly to Damascus, Aleppo, and other areas with significant opposition presence, including communications and computer equipment, as well as generators."
If the rebels were able to get AS-50s, experts say it could prove impossible to determine where and how many.
The sniper rifle, manufactured by Accuracy International – which sells arms to the Turkish and Saudi Arabian militaries - has a fearsome reputation. It has been used in various theaters of war in recent years by many elite forces, including both the SEALs and British Special Forces.
"I know from first-hand experience how revered the AI product is, even in the States, where traditionally U.S. producers are favored," a British Army sniping instructor told Wired in 2011.
Call of Duty, a warfare game that in 2009 sold more than 7 million copies in just one day, seemingly endorsed the already lofty reputation of the AS-50 by featuring the weapon in one of its many urban combat simulations, giving the sniper rifle something of an iconic following amongst players of the record-breaking video feature.
The Free Syrian Army has recently made significant territorial gains against government forces in the two-year-old bloody civil war that in March saw its worst ever body count, with independent monitors determining at least 6,000 people were killed.
The AS-50 costs about $10,000, according to Reaboi. Even if the rebels are toting cheap knock-offs, the weapons could be around long after the war in Syria ends.
"We're unsure of how many they have," Reaboi said. "Equally troubling, of course, is the training ground of the Syrian civil war itself; like the conflict in the Balkans, Iraq, and Afghanistan, we will be facing tested veteran jihadist fighters who don't just leave the war when the one battle is over. I'm afraid we or our allies will have to face them shortly, and with exceedingly lethal weapons."
Especially concerned is Israel, which shares an increasingly uneasy border with Syria in the Golan Heights.
With the Free Syrian Army increasingly dominated by more radical Jihadist elements such as the Al Qaeda-associated Al Nusra Front (Jabhat al-Nusra), concern is growing that it won't be too long before battle-hardened Islamist fighters as well as mercenaries from around the globe who have joined the fight against Assad, turn their attentions towards Israel. In their experienced hands even a far from easy-to-use weapon such as the AS-50 would be indeed be lethal.
Israel Defense Forces spokesman Capt. Eytan Buchman told FoxNews.com that the IDF is keeping a close eye on all forms of weaponry being used in the neighboring conflict.
"The Israeli security forces are very closely tracking developments inside of Syria in order to isolate and identify any potential threat to Israeli security" Buchman said.
Paul Alster is an Israel-based journalist who blogs at www.paulalster.com and can be followed on Twitter @paul_alster