Victorious Argentine President Vows Steady Course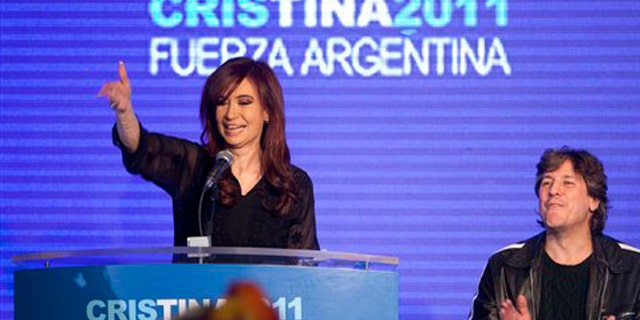 BUENOS AIRES – President Cristina Fernandez said Monday that keeping Argentina's economy growing despite the global consumption slowdown is her top priority as she looks forward to what seems like a certain re-election in October.
Fernandez got just over 50 percent of the valid votes in Sunday's primary, leading her nearest challengers by more than 37 percentage points.
Buoyed by the results, she held her first news conference in more than a year, and vowed to keep Argentina's economy growing strong.
"I've given my heart and soul these four years," she said, thanking her supporters. "The people value the ability of leaders to respond to problems in a crisis."
While many of the world's leading economies are trying to cut their way out of staggering debts, Argentina has largely resolved its debt crisis and aims to maintain its economic independence while spending revenues and reserves to create jobs and build a more egalitarian society, she said.
With 97 percent of polling places reporting, Deputy Ricardo Alfonsin and former President Eduardo Duhalde were tied at 12 percent, and Socialist Gov. Hermes Binner got 10 percent of Sunday's votes. Six others split the rest.
The three leading challengers have so many other lower-ranking politicians depending on them that none are likely to quit just to unify the opposition in what now seems like a hopeless attempt to unseat Fernandez in the Oct. 23 general election, analysts said.
The results match earlier opinion polls that suggested more than two-thirds of Argentines believe the economy will remain stable or improve, said Daniel Kerner, a Latin America analyst with Eurasia Group.
Boosted by rising commodity prices and insulated somewhat from world debt markets, the country's GDP is growing about 6.5 percent this year, continuing an expansion that began when Fernandez's husband, the late Nestor Kirchner, was elected president in 2003 in the wake of the country's disastrous default and devaluation.
Many economic analysts as well as Argentina's opposition newspapers regularly predict another crash if and when commodity prices fall or inflation outpaces the government's ability to keep spending on social programs.
But for now, Argentine consumer confidence is at record high levels, and most people think the economy is going to get even better, Kerner said.
"There's no clear generalized sense that the country is going into a crisis or is being poorly run, beyond what is said in the opposition newspapers. It's an elite view. Some 15 percent think it's getting worse, maybe a bit more, but it's certainly not a generalized feeling," Kerner said.