Victims of Iranian terror sue to block release of frozen funds
Outraged families of American victims of Iranian-sponsored terrorism moved Wednesday to block the deal to lift economic sanctions on Tehran in exchange for nuclear inspections, filing a federal lawsuit to stop frozen assets to which they stake a claim from being released to the Islamic Republic.
In the suit, filed in the U.S. District Court for the Southern District of New York, some two-dozen plaintiffs claim they are owed hundreds of millions of dollars in damages by Iran and will never receive their legally determined compensation if funds frozen by the U.S. are released back to the ayatollahs as part of the recent nuclear deal. The families are seeking to enjoin the frozen assets until Iran pays nearly $2 billion in judgments and pledges to stop sponsoring terror through proxies Hezbollah, Islamic Jihad and Hamas.
"For more than a decade Iran has refused to pay these court judgments and has thumbed its nose at these terror-victim families and the U.S. court system," said a statement from the families' legal team, which includes New York attorney Robert Tolchin and Tel Aviv-based Nitsana Darshan-Leitner, of the Israel Law Center. "The $100 billion in frozen funds is the last leverage the families have to compel Iran to satisfy their judgments. They are adamant that other innocent American families will not endure the tragedies their families suffered."
The lawsuit names the U.S. State Department and Treasury Department as well as Secretary of State John Kerry and Treasury Secretary Jacob Lew as respondents and was filed jointly by Tolchin and Darshan-Leitner.
For more than a decade, lawyers acting on behalf of the families who lost relatives in a series of terrorist attacks carried out in Israel by Palestinian terrorists funded by Iran have been attempting to locate and recover Iranian assets to use as payment for the judgments. The frozen assets are held in bank accounts outside the U.S., which has pledged to release them to the Central Bank of Iran as part of the deal.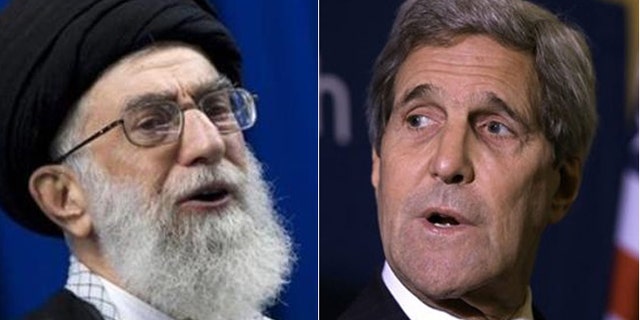 The families, who have been awarded judgments against Iran for attacks that include drive-by shootings and suicide bombings committed from 1995 to 2006 by Iran's terror proxies, say their only chance of being paid is to collect from the frozen funds. They don't anticipate Iran honoring the judgments awarded by U.S. courts.
"We don't expect Iran, [in order to get the money released], to make any 'goodwill' gestures," Darshan-Leitner told FoxNews.com. "Iran declares its proud support of terrorism. Everybody knows that some of the money is going to go toward funding more terror attacks, to Hezbollah and to Hamas, so it is really in the hands of the U.S. administration, which encouraged the U.S. victims to file these cases against Iran. This money should go to the terror victims and not return to the Iranian regime."
A 1992 law allows American victims of state-sponsored terror to go after the governments that finance attacks. Darshan-Leitner said justice will not be done if Iran recoups its frozen funds and continues to snub U.S. courts.
"These are American victims, American citizens against an outlaw regime," she said. "The American government is the one that facilitated the whole [legal] process. They enacted the law, they enabled the victims to go after Iran, and now, once they remove the sanctions, and once the money disappears, that will be the end of all these long-term legal proceedings. The whole thing will be a farce."
In a recent interview with The Atlantic, Kerry, who negotiated on behalf of the U.S., defended the deal but admitted that Iran cannot be trusted.
"I operate on the presumption that Iran is a fundamental danger, that they are engaged in negative activities throughout the [Middle East] region, that they're destabilizing places, and that they consider Israel a fundamental enemy at this moment in time," Kerry said.
Paul Alster is an Israel-based journalist. Follow him on Twitter @paul_alster and visit his website: www.paulalster.com.