Verdict in Roma killing spree expected in Hungary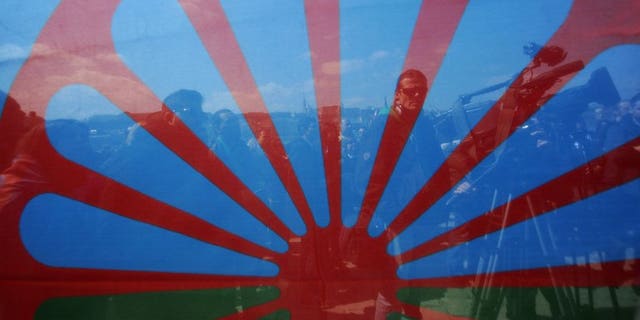 BUDAPEST (AFP) – A verdict in the trial of four Hungarians accused of killing six Roma in a wave of cold-blooded attacks is expected Tuesday, as the country continues to struggle with discrimination.
Between July 2008 and August 2009, the men allegedly carried out nine assaults against the Roma minority in various northeastern villages, using grenades, guns and Molotov cocktails.
In one of the most gruesome attacks, a father and his five-year-old son were gunned down as they tried to flee their house, which the group had set on fire.
Another woman was shot in her sleep.
In total, six people were killed and five injured in the year-long spree of violence.
Three of the accused -- brothers Arpad and Istvan Kiss, and Zsolt Peto -- face life in prison if convicted. They have denied carrying out the attacks and have pleaded not guilty to the charges.
The fourth -- Istvan Csontos, who served as a driver to his accomplices -- has pleaded guilty to charges of collusion but insists he did not take part in the murders. He faces a lesser jail sentence.
All four -- aged 28 to 42 at the time of the crimes -- have been in custody since their arrest in August 2009.
The case has found special resonance in a country where the Roma minority, plagued by poverty and high unemployment, is subject to regular discrimination.
"Six Hungarians died just because they were Roma," the opposition party Together 2014 said Friday in a statement.
"This tragedy should be kept alive in our nation's collective memory, like any other national tragedy," it added.
Prosecutors in the trial -- which began in March 2011 at a Budapest court -- say the four accused, all hard-core fans of Debrecen football club in northeastern Hungary with neo-Nazi tendencies, had had run-ins with Roma in the past.
The idea for the attacks emerged after they shared their stories in a pub, the prosecution said.
The Roma community, which makes up between five and eight percent of Hungary's 10-million population, has often been on the receiving end of attacks, including verbal ones from the far-right Jobbik party and from close allies of centre-right Prime Minister Viktor Orban.
In January, Zsolt Bayer, a prominent journalist close to Orban, equated Roma to "animals" who "shouldn't be tolerated" and "should not exist." His newspaper was later fined by the country's media regulator.
Vigilantes have also tried to intimidate Roma communities on numerous occasions.
As politicians and civil groups remembered on Friday the massacre of 3,000 Roma by the Nazis at Auschwitz on August 2, 1944, many also paid homage to the victims of the Kiss brothers and their accomplices.
It was on this day in 2009 that the last attack by the four accused took place.
"Today, the day of commemoration for the (Roma) Holocaust and the anniversary of the last murder, our common duty is to promise to take action against hate," Livia Jaroka, the sole Roma deputy in the European Parliament and a member of Orban's Fidesz party, said in a statement.
She has submitted a request that August 2 be named Roma Holocaust commemoration day in the entire European Union.
In honour of the more recent murder victims, XKK, an advocacy group, has also produced four short films titled "Their crime was the colour of their skin" and featuring moving monologues read by some of Hungary's best-known actors and actresses.
The films are to be screened in Budapest cinemas and at cultural festivals.