Venezuela's Nicolás Maduro Demands Retraction Of Obama's UN Nominee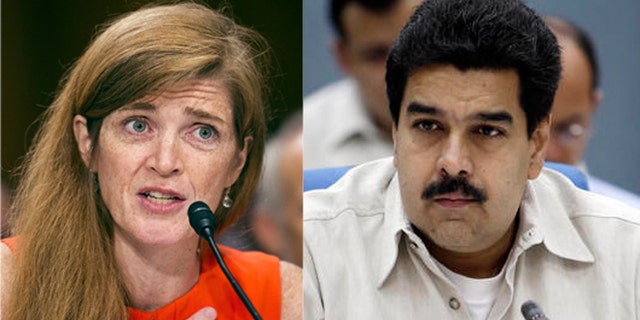 CARACAS, Venezuela – Venezuelan President Nicolás Maduro has lashed out at Washington's U.N. ambassador-designate for what he called her "despicable" criticism of his government's human rights record.
Maduro demanded Thursday evening that the United States retract Samantha Power's statement that Venezuela, along with Cuba, Iran and Russia, is guilty of a "crackdown on civil society."
Power spoke Wednesday during confirmation hearings before a U.S. Senate committee.
Hopes were raised for improved U.S.-Venezuelan ties in June when U.S. Secretary of State John Kerry and Venezuelan Foreign Minister Elías Jaua met on the sidelines of a regional summit and agreed to fast-track talks for resuming ambassadorial-level ties absent since 2010.
But prospects dimmed after Maduro later offered asylum to U.S. leaker Edward Snowden.
During her hearing, Power also said that if confirmed by the Senate, she would try to make the U.N. more efficient and stand up for freedom.
Her confirmation appeared likely. Several Republicans said Power would be a force in New York even as they pressed the former journalist, human rights campaigner and author to clarify several decade-old comments that the lawmakers suggested were critical of Israel or the United States.
Power, who won a Pulitzer Prize for her examination of the U.S. response to genocides in Rwanda and Bosnia in the 1990s, has long advocated military and other forms of intervention to prevent mass atrocities. She helped make the case for Obama's decision to deploy American air assets to oust Libyan dictator Moammar Gadhafi from power in 2011.
On Wednesday she expressed little confidence in the U.N. authorizing any similar intervention in Syria but said Washington could act on its own, if necessary.
"The failure of the U.N. Security Council to respond to the slaughter in Syria is a disgrace that history will judge harshly," Power told the Senate Foreign Relations Committee.
Based on reporting by The Associated Press.
Follow us on twitter.com/foxnewslatino
Like us at facebook.com/foxnewslatino