Venezuela's Chavez Signs Oil Deal with Russia; Gets a Puppy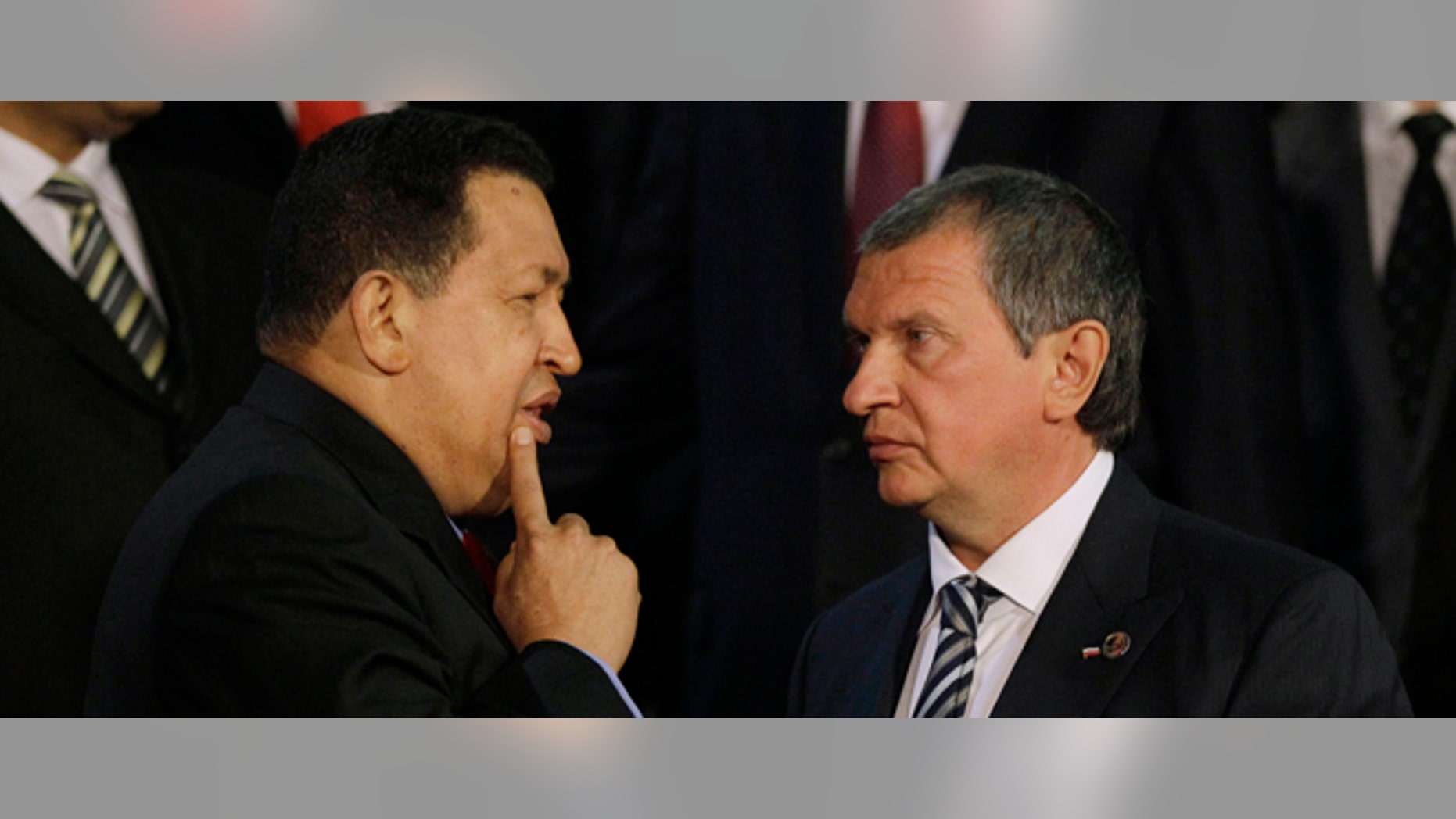 CARACAS, Venezuela – To thank President Hugo Chávez for signing an agreement with Russia to tap new oil fields in the Latin American country, Russian Prescient Vladimir Putin gave his Venezuelan counterpart a special gift - a puppy.
Venezuelan and Russian officials signed eight agreements to boost cooperation in energy projects Thursday. Igor Sechin, the CEO of Russia's state-controlled Rosneft oil company, was quoted by Russian news agencies as saying he also gave Chávez a 3-month-old black terrier puppy as a present from Putin.
"There I have the dog he sent. We're training him, a good dog and beautiful. I'm going to call him 'Russian,'" Chávez said during a meeting with the Russian delegation at the presidential palace.
"Thanks for that gift," he added, joking that he would give Putin an animal from Venezuela, perhaps a capybara.
Chávez has built close ties with Russia during the past decade, and on Thursday a joint venture involving state oil company Petroleos de Venezuela SA and a consortium of Russian oil companies began to tap a rich deposit of heavy oil in eastern Venezuela.
"They're projects with approximate investments of $19 billion, $20 billion," Oil Minister Rafael Ramirez said as he oversaw a ceremony where oil began to be extracted in the eastern state of Anzoategui.
Russian companies are involved in two projects in the region known as the Orinoco Oil Belt, and are increasing their involvement.
"For the first time, the Russian (oil) industry began joint production of crude in Latin America," Sechin said. "Today we're showing the entire world that Russia and Venezuela are capable of carrying out big projects that make a significant contribution to the global economy."
The deals signed Thursday include agreements to form new joint companies to carry out oil production, oil services and construction and to build a power plant. They also include a $1.5 billion loan from Russia to cover part of Venezuela's initial share of investment in the Carabobo 2 oil project.
The Russian company Gazprom was granted a license to explore for natural gas off western Venezuela.
"We truly have to give thanks to the Russian government, the Russian people for everything that we've been building together," Chávez said. "Our relations are growing more solid every day."
According to the Organization of Petroleum Exporting Countries, Venezuela has the world's largest proven oil reserves. Investments such as the joint projects with Russia are aimed at developing the country's vast reserves of heavy crude.
During the televised meeting, Chávez held up a cylinder filled with the black crude, saying it's a step toward increasing Venezuela's oil production.
Based on reporting by the Associated Press.
Follow us on twitter.com/foxnewslatino
Like us at facebook.com/foxnewslatino