Venezuela's Chavez Returns from Cuba Following Surgery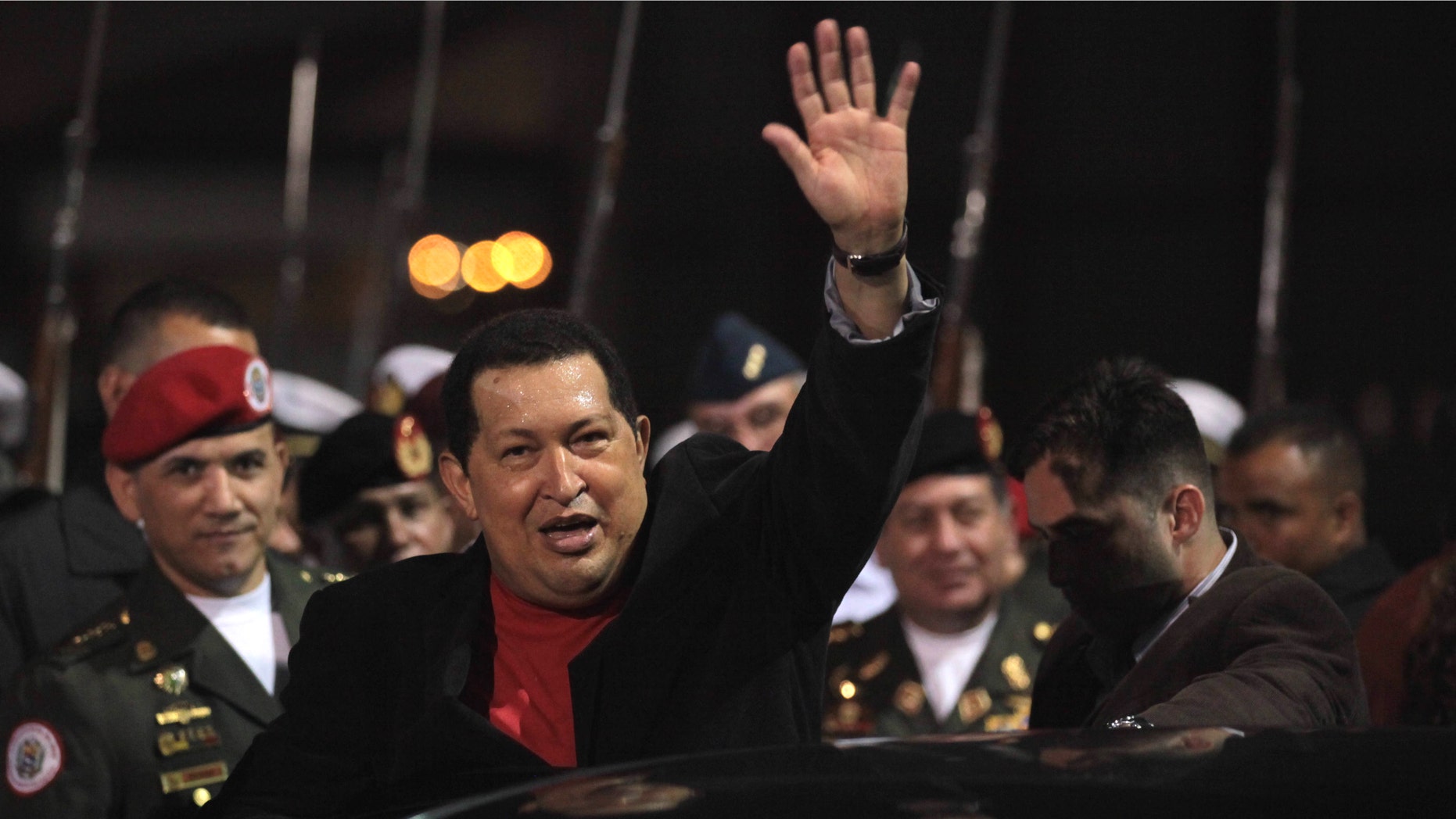 CARACAS, Venezuela – Venezuelan President Hugo Chávez returned home Saturday as hundreds of supporters gathered to great the ailing socialist leader following his surgery in Cuba to remove a cancerous tumor.
Chávez waved, blew kisses and raised a fist on a balcony of Miraflores Palace, then took the microphone and sang along with a Venezuelan folk song while a band played below.
Below him, a crowd of supporters dressed in red cheered and waved flags.
Some wore T-shirts with Chávez's face emblazoned on them. Others said they're praying for the president's health. Many of the president's supporters said they fully expect Chávez to overcome his illness and win re-election in October.
President Hugo Chavez' Cancer Battle in Pictures
"We know the world is worried about President Chávez," said Carlos Morgado, a 59-year-old artist who has painted murals of the president. But Morgado said he thinks Chávez is looking strong and "he's also capable of combating death ... and beating death" after leading a socialist government for 13 years.
The Venezuelan leader arrived home on Friday night looking haggard but expressing optimism that he will survive after his latest surgery.
Chávez spent three weeks in Cuba, leaving many Venezuelans wondering about his long-term prospects and about how his health will evolve ahead of the country's Oct. 7 presidential election. Chávez has kept secret some details of his illness, such as the type of cancer, spurring speculation.
The president has said his Feb. 26 surgery in Cuba removed a tumor from the same location in the pelvic region where another tumor was removed in June.
After he was diagnosed with cancer, Chávez underwent an initial surgery in June that removed a tumor the size of a baseball.
He then had four rounds of chemotherapy and said tests showed no signs of any cancerous cells. But last month, he announced he was returning to Cuba for surgery to have a lesion removed.
Chávez has described the most recent tumor as measuring about 2 centimeters (0.8 inches). He has declined to identify the precise location where the tumors appeared.
He next plans to undergo radiation therapy, although it's unclear how soon that will begin.
Venezuela's "Devil Dancing" Festival
The 57-year-old leader is seeking another six-year term in the October presidential vote. His rival, 39-year-old state governor Henrique Capriles, has criticized Chávez's secretive handling of his cancer, saying that if he were president, his health would "be a matter of public knowledge."
"We welcome home the government's candidate," Capriles said while making door-to-door pre-campaign visits in Aragua state. "I wish him good health. He shouldn't forget that in this contest ahead, at least from our part, what we're doing is going house-to-house. It's not insulting anybody."
As Chávez returned on Friday night, he vowed to win re-election saying: "United, we will be invincible."
Based on reporting by The Associated Press. 
Follow us on twitter.com/foxnewslatino
Like us at facebook.com/foxnewslatino