Venezuelans take to the streets one more time to demand a recall vote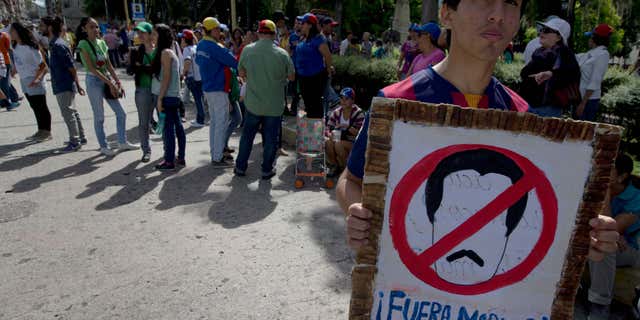 LOS TEQUES, Venezuela (AP) – Venezuelans marched in cities across the country on Wednesday to demand that authorities allow a recall referendum against President Nicolas Maduro to go forward this year.
In Los Teques, capital of the opposition-governed state surrounding Caracas, hundreds of opponents banging on pots and carrying Venezuelan flags tried to march to the regional offices of the National Electoral Council but were blocked by a large group of pro-government supporters two blocks away shouting "they shall not pass, they shall not pass."
A few dozen police in riot gear separated the two groups and the tense situation ended only when opponents sang the national anthem before withdrawing calmly.
Elsewhere, the protests were mostly peaceful.
There were no marches in the capital Caracas, where hundreds of thousands of people poured into the streets last week to clamor for Maduro's removal.
Instead, leading opposition politicians held a 10-minute sit-down to draw attention to their demand that the National Electoral Council schedule the next phase in the complex recall process, in which opponents must collect almost 4 million signatures to force a simple yes-or-no vote on whether to cut short Maduro's term before it ends in 2019.
"In Venezuela there's a virtual power vacuum," Jesus Torrealba, secretary general of the Democratic Unity opposition alliance, told a few dozen activists gathered in an eastern Caracas plaza. "The only serious, democratic way to confront this problem is to accelerate the construction of an electoral solution, which means early elections."
Nearby, residents went about their daily business seemingly oblivious to the mounting political tensions.
Alexander Madiego said he wants Maduro to leave office and participated in last week's march because the publicity company he works for installing billboards gave its employees the day off. He blames Maduro for triple digit inflation that has pulverized his salary, about $80 a month at the widely used black market rate.
Still, reflecting the steep challenge the opposition faces turning widespread discontent into on-the-streets activism, he said he was too busy hunting for affordable groceries on his lunch hour to join the event a few meters (feet) away.
"You protest and protest but everything stays the same and people grow disillusioned," said Madiego as he fielded a call from a friend telling him where he could buy some cheap rice.
Polls show that support for Maduro's removal has grown since December's legislative elections, which the opposition carried by a landslide. A vote this year would trigger new elections. But if the recall is delayed until 2017, Maduro's vice president would finish out the presidential term, thus denying the opposition its chance to gain power.
While support for the socialist president is shrinking, Maduro still counts on solid support among public sector employees. To demonstrate their strength, several hundred government workers dressed in red shirts gathered at a half-dozen stages where salsa music played and large, inflatable Hugo Chavez dolls made the rounds.
"I support my President Maduro because we can't return to the past with these leaders who want nothing good for our people," said government social worker Sorena Gomez.