Venezuelan gov't and opposition hold 6-hour meeting as U.S. joins negotiation table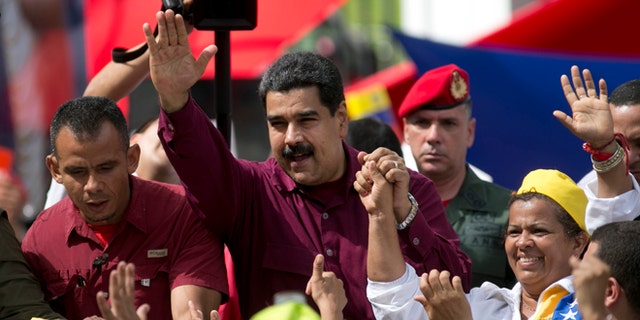 CARACAS, Venezuela (AP) – Opposition and government leaders agreed Monday to tone down their heated rhetoric in the first step of Vatican-sponsored talks on defusing Venezuela's political crisis over efforts to remove embattled President Nicolás Maduro.
After a six-hour meeting that wrapped up at 2 a.m., participants said they would immediately create committees to address the devastated economy, electoral schedule, human rights and the rule of law. Those talks will be mediated by a Vatican envoy and former presidents of Spain, Panama and the Dominican Republic, all of whom were at the meeting along with Maduro at a museum in western Caracas.
A senior U.S. diplomat, Undersecretary of State Thomas Shannon, arrived Monday for a three-day visit to show support for the dialogue, according to the State Department. Shannon, who has made several previous trips to Caracas seeking to improve relations between the two governments, met for about an hour with Maduro at the presidential palace.
The talks between the opposition and government are mired in distrust. Many of the president's foes fear they could be a stalling tactic designed to ease pressure on the unpopular socialist leader, whom Venezuelans overwhelmingly blame for triple-digit inflation and widespread food and medicine shortages.
Fifteen parties belonging to the Democratic Unity opposition alliance boycotted the talks, saying they are not prepared to sit across from the government until it releases several jailed opposition activists and reverses its decision to cancel a constitutionally allowed recall referendum against Maduro.
Even opposition figures who support the talks, like former presidential candidate Henrique Capriles, are expressing doubts.
"I don't believe Maduro even when he says 'Good Morning,'" Capriles tweeted. "They are devils capable of anything. But I do trust Pope Francis and believe in the church."
The talks come as the opposition is stepping up its campaign seeking to force Maduro from office.
Last week it rallied tens of thousands of supporters across the country, and another protest has been called for Thursday at which the opposition is vowing to march to the presidential palace, where it hasn't been allowed to get close since the 2002 coup that briefly toppled then President Hugo Chávez. Government supporters have called for a rival march of their own Thursday to keep them away, raising the specter of possible clashes that both sides say they want to avoid at all costs.
The opposition-controlled congress, meanwhile, has begun a "political trial" against Maduro accusing him of neglecting his duties, though it is a largely symbolic gesture since the body doesn't have the power to remove a president under Venezuela's constitution. On Tuesday, Maduro has been invited by the lawmakers to present his defense. He is almost certain not to show up, and the ruling socialist party has instead called for a rally at the neo-classical National Assembly to disrupt proceedings it considers illegal.
Although Maduro has threatened to arrest legislators if they go ahead with the trial, he said Sunday night that he has an "absolute commitment" to holding a dialogue with the opposition.
"We're giving a chance to disarm the hatred, the intolerance, and open the door to love among the Venezuelans," he said in televised remarks from the museum.
International pressure is also building on Maduro.
On Monday, Peru's conservative government said it was considering recalling its ambassador to Caracas for consultations. The Mercosur regional trade bloc is also considering expelling Venezuela for not living up to its democratic commitments.
It's not clear what message Shannon delivered to Maduro but his visit comes as some members of the U.S. Congress have urged the Obama administration to expand targeted sanctions against Venezuelan officials accused of human rights abuses.
Maduro told reporters his talk with Shannon was "very positive," though he offered few details except to say they focused on how to maintain a permanent dialogue based on mutual respect.
Shannon was accompanied in the meeting at the presidential palace by former U.S. Rep. William Delahunt, who along with Maduro and then-Sen. John Kerry formed an informal group of lawmakers from the two countries aimed at improving relations in the wake of the 2002 coup, which the Bush administration was quick to recognize.
In what could be a hopeful sign for the dialogue effort, the government late Monday freed three low-level activists detained over the past two months who the opposition considered political prisoners. Two were being tried for producing a video that attacked the honor of the military, while the other was accused of possessing explosives. Human rights groups say more than 100 people are being held for political reasons by Maduro's government.
Previous attempts have been made at having a dialogue between the opposition and the government, such as talks that followed a wave of deadly unrest in 2014. Those sessions calmed the streets but failed to produce any meaningful progress on key issues dividing Venezuelans.
Archbishop Claudio Maria Celli, a Vatican envoy to the talks, hailed the start of the latest round of talks as something "very positive." He urged both sides to make concessions in order for the talks not to falter like the previous attempts.
"At the start of this journey, I ask you in the name of Pope Francis that each side agrees to some concrete gestures to give credibility to this process," said Celli, who is president of the pope's council for social communications. "The country is waiting for authentic signals to comprehend that dialogue is a reality."
Jesus Torrealba, who attended the meeting as head of the Democratic Unity alliance, said the opposition's patience is limited.
"Without freedom for the political prisoners in the next few days this process of dialogue can't continue," he told reporters after emerging from the meeting.
Like us on Facebook
Follow us on Twitter & Instagram