Venezuelan Government Cuts Internet Access, Blocks Websites In War Against Student Protesters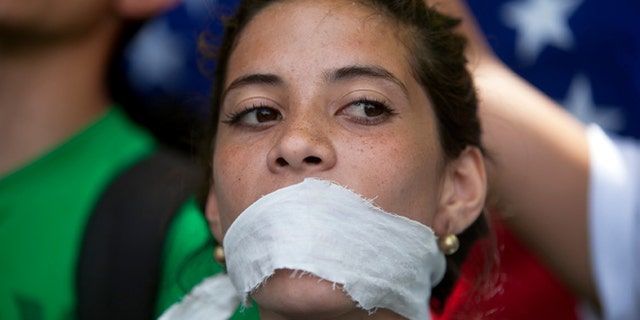 The battle for Venezuela is being fought as vigorously online as in the streets, with authorities cutting off the Internet to a clash-torn university city and blocking selected websites and a "walkie-talkie" service widely used by protesters.
A local TV reporter in San Cristobal, capital of the western border state of Tachira, said Thursday night that she could hear gunshots as teargas-firing police broke up protests just as they had the night before when Internet service was cut.
"We're still without Internet. And some people don't have water or electricity either," said the reporter, Beatriz Font.
San Cristobal, home to one private and three public universities, is where the current wave of anti-government demonstrations began on Feb. 2, the fiercest unrest since President Hugo Chavez died last March began.
Later Thursday, the U.S. company Zello told The Associated Press that Venezuela's state-run telecoms company, CANTV, had just blocked access to the push-to-talk "walkie-talkie" app for smart phones and computers that has been a hugely popular organizing tool for protesters from Egypt to Ukraine.
Zello supports up to 600 users on a single channel, and company CEO Bill Moore said it became the No. 1 app in Ukraine on Thursday for both the iOS and Android operating systems. In one day this week, Zello reported more than 150,000 downloads in Venezuela.
Some believe Venezuela's information war, which escalated last week as the government blocked images on Twitter after violence in Caracas claimed three lives, is only just beginning. The protesters are fed up with a catalogue of woes that include rampant inflation, food shortages and one of the world's highest murder rates.
The socialist government cemented its near-monopoly on broadcast media Chavez's 14-year-rule, and social media have been crucial for young opposition activists as they organize and exchange information on deaths, injuries and arrests.
Meanwhile, President Barack Obama urged Venezuela Wednesday to release protesters detained in anti-government demonstrations and condemned violence that has marred two weeks of protests against the socialist government of President Nicolás Maduro. Maduro and his government fired back, accusing the U.S. of promoting opposition protests he alleges to be behind the violence and demanding that the U.S. explain its motives in "financing, promoting and defending members of the opposition that promote violence against our country."
Internet 'Invaded By Cybercriminals'
Net-savvy activists reported a serious nationwide degradation Thursday in Internet service provided by CANTV, which handles about 90 percent of the country's traffic.
They said websites including NTN24.com, run by the eponymous Colombia-based regional news network, and pastebin.com, bulletin boards that cyberactivists use to anonymously share information, were being blocked.
Maduro had ordered NTN24 removed from air last week after it broadcast video of a student killed by a gunshot to the head in Caracas.
U.S.-based company Renesys, a top analyzer of global Internet traffic, confirmed the website blocking and service degradation, but said it could not determine if CANTV was decreasing bandwidth.
"I certainly don't know from our data if it is deliberate, although given the context, it seems plausible," said Renesys researcher Doug Madory.
Venezuela's traffic to its close ally Cuba over the ALBA-1 undersea cable, meanwhile, appeared unaffected, he said.
Programmer and cyberactivist Jose Luis Rivas, who is from San Cristobal but did give his location fearing persecution, said the Internet went out in most of the city of 600,000 about midnight Wednesday.
All across Venezuela since protests accelerated last week, activists have posted online YouTube videos of riot police and national guard breaking them up. Sometimes, the security forces are accompanied by pistol-packing motorcycle gangs of Chavista loyalists that the opposition also blames for killings and other abuses.
Rivas said that on Wednesday night, before the Internet went out in San Cristobal, people were live-streaming video of a crackdown by security forces.
Cutting the Internet deprived people of their only access to uncensored information and Rivas said people told him "they felt fear because they were no longer informed."
Government officials have not commented on the Internet outage and did not respond to Associated Press queries on either it or the service degradation and website blocking.
Spokespeople for Conatel, the government telecommunications regulator, and the Ministry of Information, said they were not authorized to discuss the matter.
Conatel's director, William Castillo, tweeted Thursday that social networks were being "invaded by cybercriminals who are attacking accounts and manipulating information."
Information Minister Delcy Rodriguez used Twitter complain that they were being used to incite "coup-directed violence and create anguish."
Hacktivists have been attacking government websites from abroad, rendering many unreachable with denial-of-service attacks, or data-packet floods.
Images, meanwhile, have been available on Twitter since last week's brief outage. Company spokesman Nu Wexler said Thursday that measures which he did not specify were taken to "ensure continuity of service." Twitter also continued to tweet a workaround that lets users in Venezuela to receive tweets on their cellphones via text message.
Venezuela has been blocking websites that track the black market rate for the country's currency for months, and for a number of weeks that knocked out access to the popular Web address-shortening application Bitly.
Venezuelans who want to reach such sites have had to use proxy services, which have long been employed by people in China and Iran to circumvent government censorship.
The international director of the Electronic Frontier Foundation, Danny O'Brien, said he thought the Venezuelan net censorship has been "somewhat haphazard and arbitrary."
Nearly half Venezuela's population relies on government-controlled media as its sole information source, the rest on the Internet.
But cutting off Internet is not smart political strategy, said O'Brien.
"I think the important lesson people should learn from these Internet blackouts is that they just throw fuel on the flames of civil unrest," he said.
Based on reporting by the Associated Press.
Follow us on twitter.com/foxnewslatino
Like us at facebook.com/foxnewslatino