Venezuelan Government Cracks Down On Opposition Mayors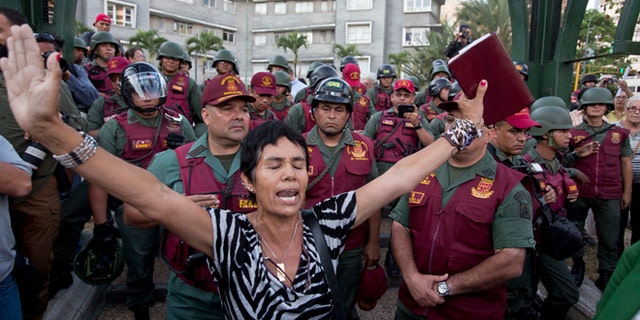 CARACAS, Venezuela (AP) – Venezuelan intelligence agents on Wednesday arrested the opposition mayor of the western city of San Cristóbal, which has been a crucible of anti-government resistance and spawned the current wave of protests.
Then, hours later, the Supreme Court announced that the opposition mayor of San Diego, Enzo Scarano, would be removed from his post and serve 10 months and 15 days in prison for disobeying a March 12 court order to keep protesters from barricading streets in his city.
The mayors joined opposition leader Leopoldo López, who is being held on charges of arson and conspiracy, as leading government opponents jailed by President Nicólas Maduro's administration since the unrest began last month.
The arrest of San Cristóbal mayor Daniel Ceballos was made in Caracas hotel by agents from the Bolivarian National Intelligence Service, known by its Spanish initials SEBIN, according to his aide, Ronni Pavolini.
Ceballos, who was in Caracas for a meeting of opposition mayors, had been outspoken in his criticism of what he called repression by security forces in his city.
"They took him out of the hotel in Caracas and took him to Helicoide (SEBIN headquarters)," Pavolini told the Associated Press.
Interior and Justice Minister Miguel Rodríguez Torres confirmed the arrest later on state television. "This is an act of justice for a mayor who not only did not meet his obligations as required by law and the constitution, but also facilitated and supported all the irrational violence in San Cristóbal."
The anti-government protests that have shaken Venezuela for more than a month began in early February with students in San Cristóbal, an opposition stronghold along the border with Colombia. Since then it has seen intense clashes between authorities and protesters frustrated by soaring inflation, rampant violent crime and shortages of basic items such as cooking oil and toilet paper.
Late Wednesday, the federal prosecutor's office said that, according to preliminary information, National Guardsman Jhon Rafael Castillo Castillo, 23, was killed while breaking up protests near a local university in San Cristóbal. That would be the fifth National Guardsmen killed during the protests.
Meanwhile, about 25 kilometers (15 miles) from San Cristóbal, National Guardsmen firing plastic shotgun pellets and tear gas wounded at least 16 people in the town of Rubio as they cleared barricades that had been up for weeks, local officials said.
Rubio residents reported an intense effort by the National Guard to clear protesters' barricades that had sealed off neighborhoods.
"The situation is terrible here," Francisco Rincon, vice president of the Rubio municipal council, told the Associated Press. He said soldiers with rifles were on the street corners. He said he had counted 16 wounded, four of them by bullets.
Rincon, who is a member of the opposition Popular Will party, said their supporters had protested peacefully in the morning before being dispersed by tear gas and plastic buckshot by National Guardsmen and pro-government civilians.
In Caracas, officials said a municipal worker was shot and killed while removing a street barricade in a middle-class neighborhood. His death raised to 28 the official toll from more than a month's worth of protests.
The federal prosecutor's office said Francisco Alcides Madrid Rosendo, 32, was shot multiple times around 10 p.m. Tuesday while he and others were taking down a barricade in the Montalban neighborhood in Caracas' western section.
Pro-government Caracas Mayor Jorge Rodríguez through his Twitter account blamed unnamed "terrorists" for the killing, but provided no other details.
Besides authorities arresting Ceballos and López, Venezuela's National Assembly on Tuesday voted to start a process to strip opposition lawmaker María Corina Machado of her immunity so they could eventually bring charges against her for allegedly trying to destabilize the government.
Machado was expected to speak Friday at a meeting of the Organization of American States in Washington about the situation in Venezuela. Because the Venezuelan government controls the country's seat, Panama has offered Machado its seat to make her presentation to the regional body.
Venezuela accuses her of civil disobedience and trying to destabilize the government.
Machado told a reporter from the Associated Press who was on the same flight to Miami on Wednesday that she was "very worried" about the effort to bring criminal charges against her.
"It's fundamental that the world understand what's happening in our country," she said of her upcoming appearance before the OAS.
The body earlier this month approved a declaration supporting President Maduro's efforts to start a dialogue with the political opposition. Panama, the United States and Canada voted against it.
Follow us on twitter.com/foxnewslatino
Like us at facebook.com/foxnewslatino