Venezuelan government bars opposition leader from holding public office, she claims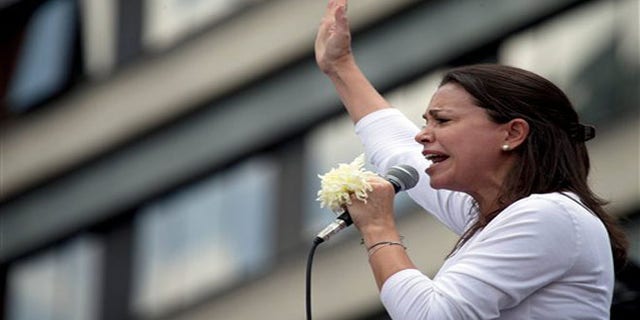 CARACAS, Venezuela (AP) – One of Venezuela's most prominent opposition leaders announced Tuesday that she had been barred from holding public office as a critical election looms.
Former lawmaker Maria Corina Machado posted a notice on Twitter saying the comptroller's office prohibited her from holding office for a year, which could prevent her from taking her seat if she wins one in December's congressional elections.
She did not say why she was barred, but she apparently has the option to appeal the decision.
The comptroller's office could not be reached for comment.
Machado is among hardline leaders who called for President Nicolas Maduro to resign last year and helped lead sometimes bloody street protests demanding an end to the South American country's socialist administration. The ruling party stripped her of her congressional seat amid the protests.
In the past year, Machado has become one of the most visible faces of the opposition, continuing to lead protests against Maduro.
The state prosecutor's office has accused her of conspiring to assassinate Maduro, a charge she denies as ridiculous.
On Tuesday, she called the comptroller's order another affirmation that the ruling party constitutes a dictatorship, adding that she and her supporters would prove themselves to be the majority in the upcoming elections. Polls show the opposition leading strongly as Venezuelans tire of chronic shortages, crime and inflation.
The order did not appear to specify the reason Machado will be barred from public office. Politicians are most commonly banned from office when they are accused of raiding public coffers, but Machado has been out of office for a year, without any obvious access to state funds.
She is the second high-profile opposition leader barred this month from holding public office. Former San Cristobal mayor Daniel Ceballos won a primary contest to run in December's general election, but was officially barred from holding office last week. His is expected to stand as a candidate anyway.
On Tuesday, the opposition coalition rejected the government's moves to prevent outspoken critics from running for office, and said the orders were a sign of desperation.