Venezuela says explosions were an attack on President Maduro: 'This was an attempt to kill me'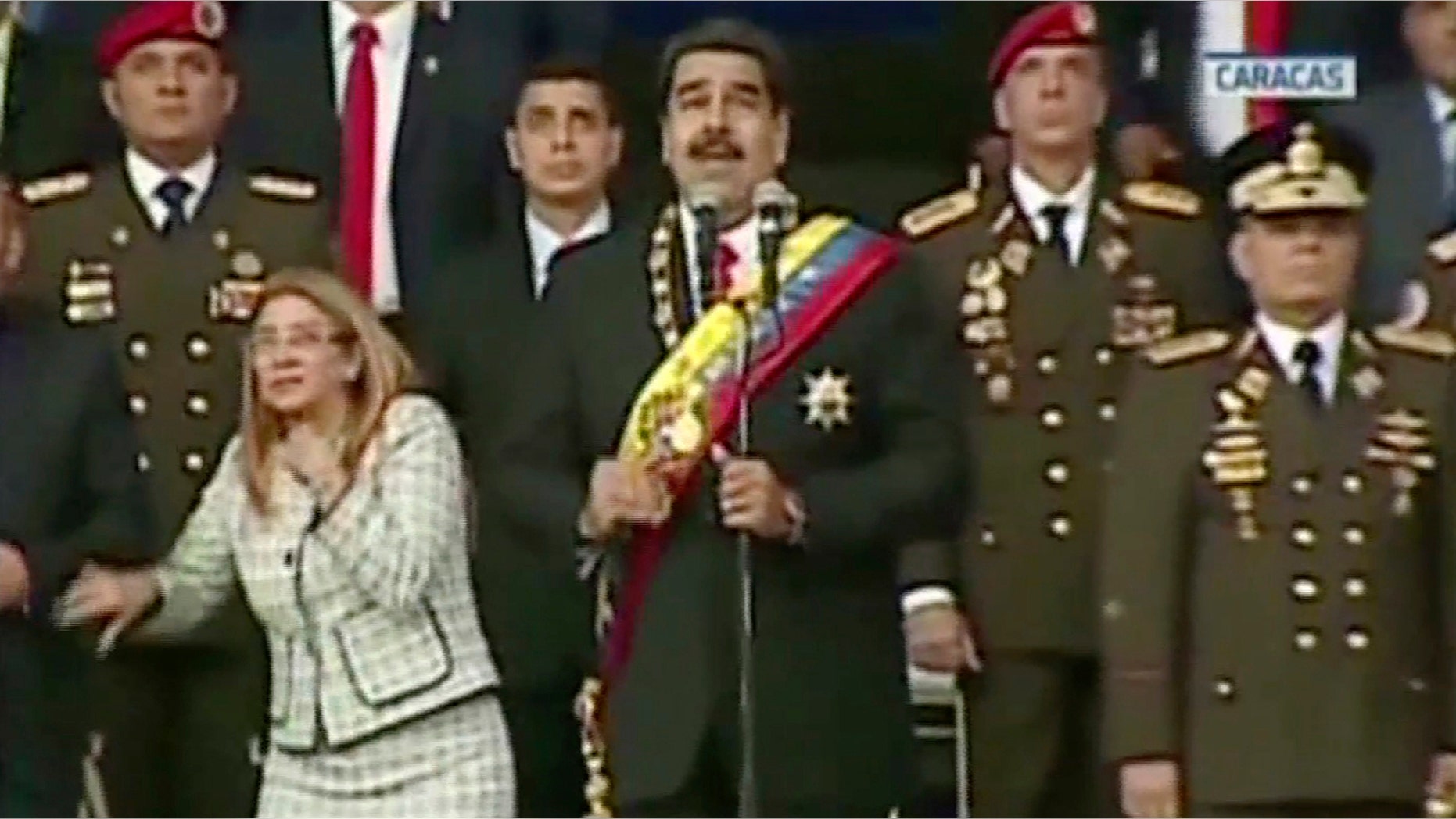 Venezuela's government reported Saturday afternoon that several explosions, heard at a speech given by President Nicolas Maduro, were an attempted attack on him.
"This was an attempt to kill me," Maduro, who was unharmed, said in an address to his nation Saturday, according to The Associated Press. "Today they attempted to assassinate me."
Maduro is blaming far-right factions in his beleaguered socialist nation for the attack.
He said evidence gathered thus far "points to the far right" working in conjunction with Colombians in the neighboring Andean nation.  Maduro said he believed Colombian President Juan Manuel Santos was also responsible.
He added that arrests had been made and promised a full investigation, "no matter who falls."
Maduro said the factions in Venezuela were working with conspirators in Bogota, and in Miami. Asserting that some of those who financed tyhe attack had links to Miami, he said he hoped President Trump is "willing to fight the terrorist groups."
AP said  Colombians officials have not yet commented on the accusation. Santos has become one of Maduro's most outspoken critics.
Information Minister Jorge Rodriguez said in a live broadcast Saturday that several dronelike devices armed with explosives detonated near Maduro during his appearance at a military event, according to AP.
It quoted Rodriguez as saying Maduro was safe and unharmed. According to Reuters, seven National Guard soldiers were hurt.
Firefighters at the scene were disputing the government's account, AP said.
Maduro, according to AP's account of events, was giving a speech in the capital of Caracas during a celebration of the National Guard's 81st anniversary. He was wearing the presidential banner.
"To the conscious Venezuela, we are going to bet for the good of our country, the hour of the economic recovery has come and we need..." Maduro was saying before the cameras quickly moved away from him.
He was next to his wife and other officials for the event. AP said a video showed his wife, Cilia Florez, appear to wince, and then she and the president both began looking up toward an unidentified sound.
Soldiers lined up for the event broke ranks, and the transmission of the event abruptly ended.
Venezuela, a once-wealthy oil nation, is in the grips of a five-year crisis under President Maduro's socialist government. Venezuelans struggle to afford scarce food and medicine under soaring inflation. Living with malnutrition and hyperinflation, many Venezuelans have crossed borders into Colombia and other neighboring nations.
This is a developing story.