Venezuela government, opposition reach initial agreements amid political crisis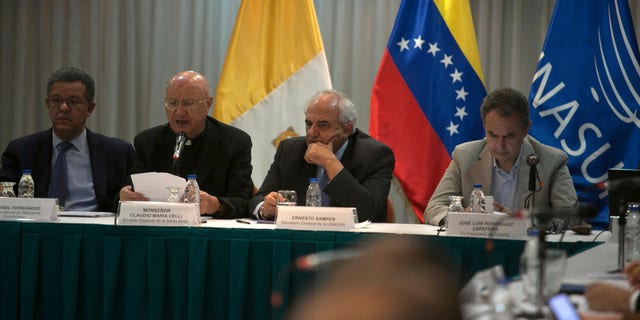 NEWYou can now listen to Fox News articles!
CARACAS, Venezuela (AP) – Venezuela's government and opposition announced on Saturday some preliminary agreements to try to pull the country from its deep political and economic crisis, but a definitive solution has not yet been found and talks will continue.
Among the agreements is a pledge to hold new elections in Amazonas state to choose replacements for three National Assembly deputies who were dismissed by Venezuela's supreme court for alleged vote buying.
The parties also agreed to respect the autonomy of Venezuela's legislature and to work to overcome the impasse created by the high court's decision to nullify the National Assembly's decisions.
Vatican-appointed mediator Monsignor Claudio Celli announced the agreements after reading the conclusions from the second meeting of representatives of the opposition and the socialist government of President Nicolas Maduro.
Celli said there was also an agreement on how to name the replacements of two National Electoral Council members whose mandates end in December. The sides also said they had agreed on measures to combat the food and medicine shortages that have plagued the country.
The negotiations will continue in the coming days. They are being sponsored by former presidents Jose Luis Rodriguez Zapatero of Spain, Martin Torrijos of Panama, and Leonel Fernandez of the Dominican Republic.
The talks are marked by distrust. Maduro's adversaries fear they are a delaying tactic to relieve pressures on a president whose popularity is collapsing amid triple-digit inflation, shortages of food and medicine, and a contracting economy.
Earlier, the government released four jailed activists and the opposition agreed to delay a symbolic trial of Maduro in Congress and to scrap a protest march.
Those moves were a response to the Vatican's efforts to avert bloodshed and dampen acrimony in the oil-rich South American country. Talks under its tutelage aim to defuse a crisis exacerbated by the government's derailing of a referendum to recall Maduro.
Like us on Facebook
Follow us on Twitter & Instagram