V. Stiviano Drives Up Sales Of Visors After She's Seen Sporting Them Around Town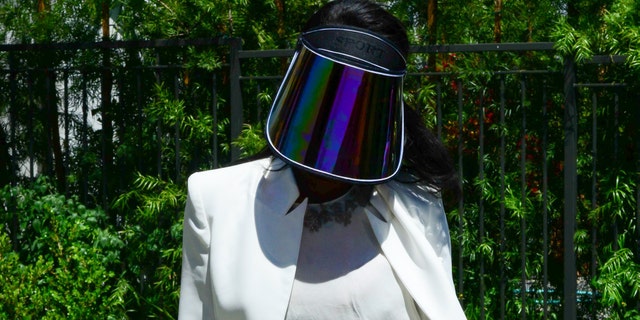 V. Stiviano is not the only one getting her 15-minutes of fame after her explosive recording brought down Los Angeles Clippers' owner Donald Sterling last week.
So is the extra-large visor she has been sporting around town covering her face.
The 31-year-old told ABC's Barbara Walters that she has been wearing the visor because it makes it "easier to mask the pain."
"I'm hurting. I'm in pain," Stiviano told Walters on "20/20." "It hurts to see someone that you care about hurting. It hurts to see people speculate, assume, say – throw darts at you when they don't know you, when they don't know your story, when they don't know the truth – all based on hearsay and assumptions. It hurts. It's easier to mask the pain."
But the Daft Punk-like visor is doing more than just hiding Stiviano's face. It's actually becoming a fad — and sales of such visors are soaring.
"It's so unexpected, but it's perfect," Gingie McLeod, owner of SAINTCHiC, which sells the Paparazzi Visor, told the NY Daily News. "There's so many people who don't want to be looked at."
Stiviano's craze for a visor is not just her own. A blogger wrote about an increase in the use of visors in China back in 2004, saying they were everywhere, "particularly popular among the bicycling crowd."
McLeod, who has a showroom in Tribeca, said the visors had been on sale on the store's website for months with very little sales. However, since Stiviano was spotted sporting one, she has sold more than 600, each at $35.
"She's the muse for summer," McLeod said. "I think the main thing I've noticed is that a lot of people are writing or calling, but they're saying it's for somebody else."
Stivano hit the spotlight after a recorded conversation with Sterling, where he chastised her for "associating with black people," was made public.
"There's been a number of occasions where Mr. Sterling and I had conversations just like this one. This was one of very many," Stiviano told Walters. "Part of what the world heard was only 15 minutes. There's a number of other hours that the world doesn't know."
The comments prompted the NBA to permanent ban Sterling and fine him $2.5 million.
Follow us on twitter.com/foxnewslatino
Like us at facebook.com/foxnewslatino