US Warns About Travel to Mexico as Spring Break Looms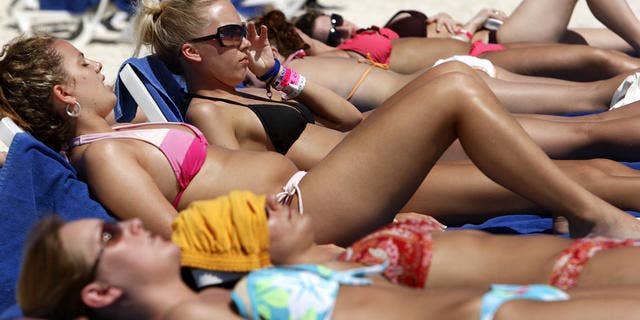 MEXICO CITY – Weeks before college students begin going on Spring Break, the U.S. State Department is warning about the potential danger of traveling to Mexico.
The agency is urging Americans to avoid going to all or parts of about half of the states in Mexico, which is seeing a dramatic growth in drug-related violence.
It advises caution for traveling in three other border states and many areas of central and western Mexico where drug cartels have been warring.
Many Mexican elected officials decried the warning for its potential impact on their tourism and the economy.
Mexico is a favorite destination for millions of U.S. citizens each year, including more than 100,000 who go for Spring Break, according to the State Department. More than 150,000 cross the border every day.
"The Mexican government makes a considerable effort to protect U.S. citizens and other visitors to major tourist destinations," the agency Web site says, "and there is no evidence that Transnational Criminal Organizations (TCOs) have targeted U.S. visitors and residents based on their nationality."
Still, U.S. citizens have been casualties of the escalating violence in Mexico, the agency notes.
'Narco Tanks' Added to Cartel Arsenal
Crime groups, it says, "are engaged in a violent struggle to control drug trafficking routes and other criminal activity."
"As a result, crime and violence are serious problems throughout the country and can occur anywhere. U.S. citizens have fallen victim to TCO activity, including homicide, gun battles, kidnapping, carjacking and highway robbery."
The agency recommends that Americans avoid travel to all or parts of 14 of 31 Mexican states. It advises against any nonessential travel in all of Chihuahua, Coahuila and Tamaulipas, which border the U.S, and in the central state of Durango, as well as sections of 10 other states.
The previous warning in April 2011 recommended avoiding travel in all of just two states, Tamaulipas and Michoacan, and parts of eight others.
It is the first time the State Department listed advisories for each of Mexico's 31 states, including the federal district of Mexico City, where there is no warning. There were also no warnings for the states that are home to Cancun and Cabo San Lucas, two popular tourist destinations for Americans.
It advises caution for traveling in three other border states and many areas of central and western Mexico where drug cartels have been warring.
The advisory seems to take pains not to make even violence-plagued tourist destinations off limits.
It recommends against nonessential travel in the Pacific coast state of Sinaloa, home to Mexico's most powerful cartel of the same name, and one of Mexico's most violent states. But the state warning excludes the tourist destination of Mazatlan.
It advises visitors there to exercise caution at night and in the morning, even though the statement also says "incidents of violence are occurring more frequently in tourist areas" in Mazatlan.
Pot Catapult Launches Drugs over US Border
Some large cruise lines have stopped their ports of call in Mazatlan.
While the advisory warns against travel in most parts of southern Guerrero state, it doesn't include the resort city of Acapulco, even though Acapulco has seen a significant spike in violence from warring cartels.
"In Acapulco, defer nonessential travel to areas further than two blocks inland of the Costera Miguel Aleman Boulevard, which parallels the popular beach areas," the statement says.
There have been several incidents of violence on the costera, the main tourist road, in the last year.
Mexican Foreign Minister Patricia Espinosa said Mexico does everything it can to ensure the safety of any person in the country, and said the number of visitors to Mexico is steadily increasing.
This story contains material from The Associated Press.
Follow us on twitter.com/foxnewslatino
Like us at facebook.com/foxnewslatino