US votes down Arab-backed UN proposal condemning Israeli force in Gaza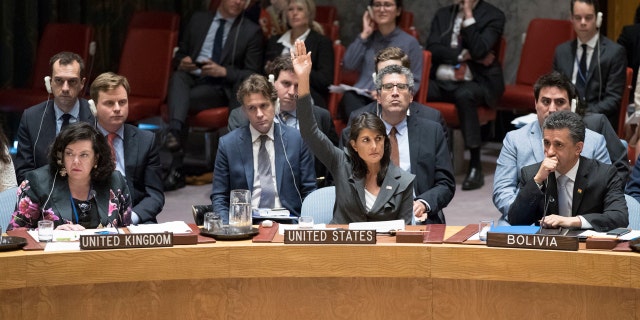 NEWYou can now listen to Fox News articles!
The United States shot down an Arab-backed resolution on Friday that condemned Israel's use of force in Gaza while calling for the protection of Palestinian civilians, instead authoring a proposal that omitted its ally's involvement in the region.
The initial vote was on a resolution, drafted by Kuwait, which called for the secretary-general to propose ways to ensure "international protection" for Palestinians civilians and demanded that Israel's military cease any "use of excessive, disproportionate and indiscriminate force."
The U.N. Security Council vetoed the proposal – something the U.S. committed to doing ahead of Friday's vote.
"It is resolutions like this one that undermine the U.N.'s credibility in dealing with the Israeli-Palestinian conflict," U.S. Ambassador Nikki Haley said, speaking of the proposal's omission of Hamas.
She called it "grossly one-sided" in not mentioning Hamas, the militant group that controls Gaza.
"The resolution places all blame on Israel" and "is wildly inaccurate," Haley said.
The U.S. authored its own proposal condemning Hamas over the recent escalation of violence and demanded a stop to "all violent activity and proactive acts" in Gaza. It made no mention of Israel's military action, or of protection of Palestinian citizens.
The council vetoed the resolution – with the U.S. being the only yes vote.
In two months of mass protests at the Gaza border, over 115 Palestinians have been killed and thousands wounded by Israeli military fire. Israel says its troops were defending its border and accused Hamas of trying to attack under the cover of the protest.
The Associated Press contributed to this report.