US Vice President Biden arrives in Singapore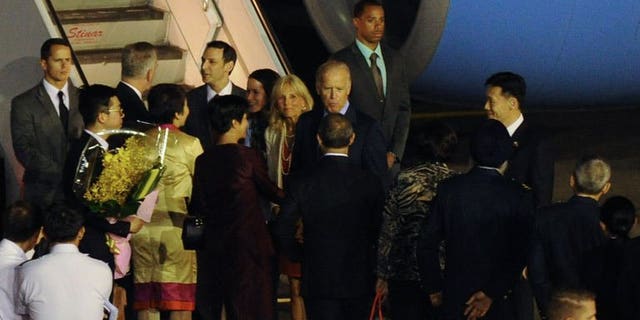 SINGAPORE (AFP) – US Vice President Joe Biden arrived in Singapore on Thursday for a visit in which he is expected discuss trade ties and ways to calm regional maritime tensions.
Biden's plane touched down at a military air base in the city-state following an earlier visit to India.
President Barack Obama's number two is scheduled to meet with the country's top leaders, including Prime Minister Lee Hsien Loong and modern Singapore's founding father Lee Kuan Yew on Friday.
He will also hold talks with Japanese Prime Minister Shinzo Abe, who is visiting Singapore on the same day as part of a swing to Southeast Asia.
On Saturday, Biden will visit a Pratt & Whitney aircraft engine overhaul facility and tour the US Navy's littoral combat ship USS Freedom, which has been deployed to Singapore and the surrounding region as part of Washington's strategic "pivot" towards Asia.
Biden and his wife Jill on Saturday will also become the latest high-profile visitors to be bestowed a unique Singapore honour -- having an orchid named after them.
The vice president will depart for Hawaii on Saturday.
A senior US administration official said in Washington ahead of the Singapore visit that Biden is expected to discuss with Singaporean leaders tensions in the South China Sea caused by overlapping maritime claims.
China claims virtually all of the sea, sparking protests from rival claimants the Philippines and Vietnam which accuse Beijing of mounting a creeping takeover of disputed islets.
Brunei and Malaysia, as well as Taiwan, also claim parts of the sea.
Brunei, Malaysia, the Philippines and Vietnam are members of the Association of Southeast Asian Nations (ASEAN) which has been urging China to negotiate a legally binding code of conduct in the sea aimed at preventing conflict.
Biden and the Obama administration are "concerned about certain patterns of activity that have unfolded in these areas, and so I think you can expect that he will address this issue head-on" in Singapore, the senior US administration official said.
The official added that Biden will talk with Singapore leaders about Washington's "very deep stake in making sure that these disputes are managed in a way that promotes freedom of navigation, promotes stability, promotes conflict resolution, avoids intimidation and coercion and aggression".
Beijing, however, has been reluctant to discuss such a code with ASEAN, saying it prefers to deal with individual claimants.
The rivalries in the South China Sea have for decades been a source of regional tension, with China and Vietnam fighting battles in 1974 and 1988 for control of some islands in which dozens of Vietnamese soldiers died.
Tensions have again boiled in recent years with the Philippines, Vietnam and some other countries expressing concern at increasingly assertive Chinese military and diplomatic tactics to stamp its control over the sea.
Trade relations are also expected to figure in Biden's agenda, with Singapore being a major US economic partner in the region.