US, Turkey negotiate Syria 'safe zone' against ISIS as Turkey targets Kurds
The complex alliances in Middle Eastern conflicts took another turn Monday, as Turkish forces targeted Kurds who have been fighting ISIS in northern Syria, even as Turkey and the U.S. were negotiating plans to intensify the battle against the terror group.
The Kurdish People's Protection Units, or YPG, told the Associated Press that the Sunday night shelling on the border village of Til Findire targeted one of their vehicles. It said Til Findire is east of the border town of Kobani, where the Kurds handed a major defeat to ISIS earlier this year. The YPG did not say in its Monday statement whether there were casualties in the shelling.
A Turkish official said the military was only returning fire -- in line with Turkey's rules of engagement -- and that the campaign does not include the YPG.
"The Syrian Kurds are not a target of the operations. Our operations only target IS in Syria and PKK in Iraq," the official said. The Turkish official said authorities were "investigating claims that the Turkish military engaged positions held by forces other than ISIS." The official spoke on condition of anonymity because of rules that bar officials from speaking to journalists without authorization.
With the help of U.S. airstrikes, the Kurds have proven to be among the most effective ground forces against ISIS. But their advance across northeastern Syria in recent months has alarmed Ankara, which fears they could revive a decades-long insurgency in pursuit of statehood.
Syria's main Kurdish fighting force is affiliated with the Kurdistan Workers' Party, or PKK, which waged a decades-long insurgency in Turkey and maintains bases in remote parts of northern Iraq.
Since Friday, Turkey has struck ISIS fighters in Syria and PKK positions inside Iraq.
Meanwhile, the U.S. and Turkey are finalizing plans to create an "Islamic State-free zone" with a military campaign to push ISIS out of a strip of Syrian territory along the Turkish border. The strategy would call for ISIS to be driven out of a 68-mile area west of the Euphrates River that would reach into the province of Aleppo, a center of opposition to Syrian President Bashar al-Assad.
Such a move would further embroil Turkey in Syria's civil war and set up a potential conflict with U.S.-backed Kurdish forces. A U.S. official said the creation of an "Islamic State-free zone" would ensure greater security and stability in the Turkish-Syrian border region. But a senior Obama administration official told Fox News plans for an "ISIS-free zone" are still fluid.
"Details remain to be worked out, but what we are talking about with Turkey is cooperating to support partners on the ground in northern Syria who are countering ISIL (ISIS). The goal is to establish an ISIL-free zone and ensure greater security and stability along Turkey's border with Syria. Any joint military efforts will not include the imposition of a no-fly zone. As the presidents discussed in their phone call on Wednesday, we will work in concert towards a political settlement to the conflict in Syria," the unidentified senior administration official said.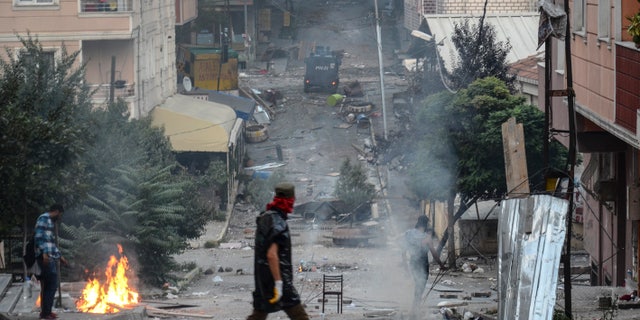 The U.S. has long rejected Turkish and other requests for a no-fly zone to halt Syrian government air raids, fearing it would draw U.S. forces further into the civil war.
Turkish warplanes started striking militant targets in Syria last week, following a long-awaited agreement allowing the U.S. to launch its own strikes from Turkey's strategically located Incirlik Air Base.
The Washington Post reported that Turkey's agreement to let U.S. planes use the Incirlik base is part of the deal. However, many key details, including which Syrian rebel forces would secure the safe zone, had yet to be worked out.
According to the paper, full implementation of the safe zone could bring American planes in close contact with Damascus' anti-aircraft defenses, a possible confrontation that the Obama administration has been keen to avoid since it began airstrikes in Syria this past September.
A U.S. Defense Department official made it clear the U.S. is not taking a side in Syria, but fighting Islamic terrorists.
"We are not at war with Assad. We are at war with ISIS," the official told Fox News Friday.
The unnamed official also cautioned about reports on establishing a "safe zone," and stressed that the U.S. would continue striking ISIS in northern Syria and Iraq. He described the ongoing air war against ISIS there as "business as usual."
Syria's leader admitted the battlefield has tuned against his forces, in a televised speech to local dignitaries in Damascus.
Assad acknowledged that his generals have had to move forces from one front to another in order to protect areas that are militarily, politically or economically more important. He added that the loss of some areas to insurgents has led to "frustration" among Syrians. Among those losses are the northwestern city of Idlib and the central town of Palmyra, the latter to ISIS.
"We are not collapsing. We are steadfast and will achieve victory," Assad vowed. "Defeat does not exist in the dictionary of the Syrian Arab army."
Turkey began cross-border strikes against Kurdish and ISIS fighters on Friday, stepping up its involvement in Syria's long and bloody civil war. The Syrian Kurds are among the most effective ground forces battling ISIS, but Turkey fears they could revive an insurgency against Ankara in pursuit of an independent state.
In comments published Monday, Turkish Prime Minister Ahmet Davutoglu said Turkey and the United States had no plans to send ground troops into Syria, but said they had agreed to provide air cover to moderate Syrian fighters.
"If we are not going to send land units to the ground -- and we will not -- then those forces acting as ground forces cooperating with us should be protected," Davutoglu told a group of senior journalists over the weekend. His comments were published in Hurriyet newspaper.
Davutoglu also said Turkey wanted to clear its border of ISIS extremists.
"We don't want to see Daesh at our border," Hurriyet quoted Davutoglu as saying, using the Arabic acronym of the group. "We want to see the moderate opposition take its place."
Turkish police raided homes in a neighborhood in the capital Monday, detaining at least 15 people suspected of links to the Islamic State group, the Turkish state-run news agency said. The Anadolu Agency said those detained in Ankara's Haci Bayram neighborhood include a number of foreign nationals, without naming their home countries.
Turkey has arrested hundreds of people with suspected links to violent extremists. On Sunday, it called for a meeting of its NATO allies to discuss threats to its security, as well as its airstrikes.
Fox News' Lucas Tomlinson and the Associated Press contributed to this report.