US Marine Osprey crashes off Japan, 5 rescued, US officials say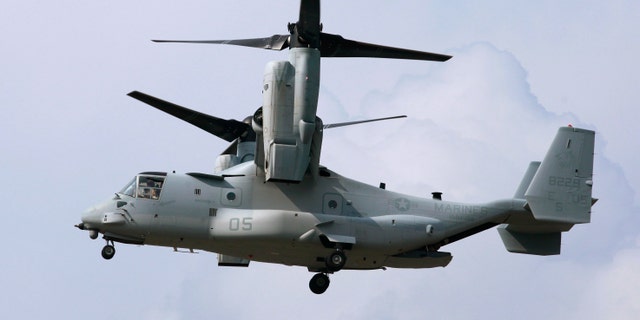 A U.S. Marine Corps MV-22 Osprey crashed roughly 6 miles off the coast of Okinawa, Japan, on Tuesday, marking the second crash of a Marine aircraft in the area in less than a week, two Pentagon officials told Fox News.
PARIS ATTACK PLANNERS AMONG 3 ISIS FIGHTERS KILLED IN DRONE STRIKE, PENTAGON SAYS
The Marine aircraft had five crew members onboard. Two were injured, but crews recovered all of them, a U.S. defense official said.
The extent of the injuries was unclear. The Marines were recovering at the United States Naval Hospital at Camp Foster.
'NEVER TOOK A KNEE': ADMIRAL CALLS OUT COLIN KAEPERNICK FOR ANTHEM PROTEST
Marine officials launched an investigation into what may have caused the crash. The service members were with Marine Aircraft Group 36, 1st Marine Aircraft Wing.
Last Wednesday, a U.S. Marine Corps F/A-18 Hornet crashed off the coast of Japan killing the pilot, Capt. Jake Frederick, 32.
Tuesday's crash was the eighth involving Marine Corps aircraft this year. All have occurred during training flights. The Marines reported six such crashes in 2015 and three in 2014.
A Japanese Maritime Self-Defense Force ship found Frederick's body last Thursday during an extensive search at sea. The Pentagon was investigating what may have triggered that crash.
"We have lost a fine American patriot who volunteered to serve for freedom," said Lt. Gen. Lawrence Nicholson, commanding general of the III Marine Expeditionary Force. "I want to sincerely thank the Japanese government for the tremendous efforts they made during search operations following the mishap."
Frederick was on a rotational deployment to Japan. His decorations include the National Defense Service Medal, the Global War on Terrorism Service Medal, and the Sea Service Deployment Ribbon.
Fox News' Leonard Balducci, Lucas Tomlinson and The Associated Press contributed to this report.