US list of Russians is 'hostile step,' Putin says
NEWYou can now listen to Fox News articles!
Russian President Vladimir Putin says the Trump administration's list of top officials and businesspeople is a "hostile step" that harms relations between Russia and the United States.
Just 12 minutes before the deadline, the administration late on Monday released a long-awaited list of 114 Russian politicians and 96 "oligarchs" who have flourished under Putin, fulfilling a demand by Congress that the U.S. punish Moscow for interfering in the 2016 U.S. election.
The section on political leaders includes the entire Kremlin administration and the Cabinet as well as other top officials.
Speaking at a campaign event in Moscow, Putin, who is running for president at the March election, joked on Tuesday that he felt "slighted" that he himself was not on the list.
Putin described the list as a "hostile step" but said Moscow does not want to make the situation worse and is eager to "develop the relations as much as our American counterparts are willing to."
TRUMP ADMINISTRATION RELEASES 'PUTIN LIST' OF RUSSIAN LAWMAKERS, OLIGARCHS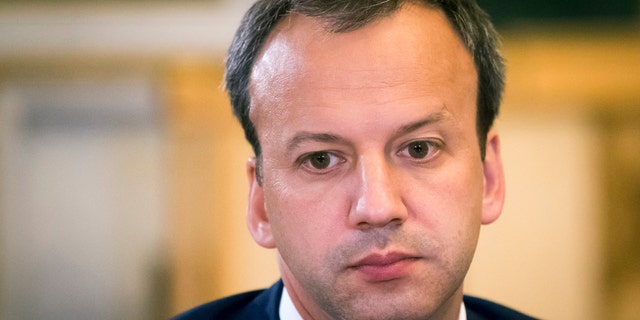 The chairwoman of the upper chamber of the Russian parliament says Monday's publication of the list of Russian officials and businessmen as part of a U.S. law on sanctions against Russia is an attempt to influence Russia's upcoming presidential vote.
The Trump administration late on Monday published a long-anticipated list of top Russian officials and "oligarchs" who have flourished under President Vladimir Putin. The 114-strong political list is the entire presidential administration and the Russian Cabinet, while the list of 96 "oligarchs" is an exact copy of the Forbes magazine's Russian billionaires' rankings.
Valentina Matvienko, who chairs the Federation Council and whose name is also on the list, told Russian news agencies on Tuesday that the publication is "nothing but meddling into the electoral process" which seeks to "lower the support for the president."
Russians are going to the polls on March 18, and Putin is expected to win by a landslide.