US general shot in Taliban attack in Afghanistan, Pentagon confirms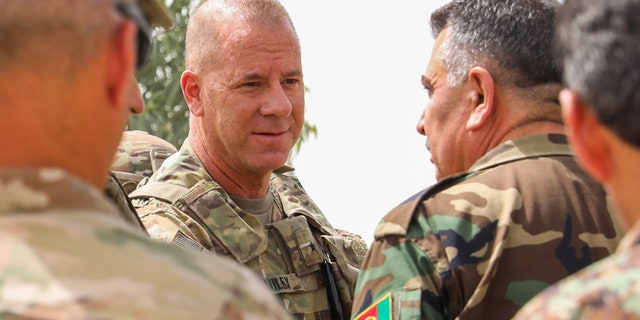 U.S. Army Brig. Gen. Jeffrey Smiley was shot in a Taliban attack that killed two Afghan leaders in Kandahar province last week, the Pentagon has confirmed.
Cdr. Grant Neeley, a North Atlantic Treaty Organization Resolute Support spokesperson, and a U.S. defense official both confirmed the incident to Fox News on Sunday, but did not provide further details.
The Washington Post, which broke the story, reported earlier Sunday that Smiley was recovering after he suffered at least one gunshot wound while he was inside the Kandahar governor's compound.
The Taliban assassinated two top provincial officials Thursday in the attack on a security conference attended by the top U.S. military commander in the country, Gen. Scott Miller. He escaped injury.
VOTERS DEFY VIOLENCE, SUICIDE BOMBERS FOR AFGHAN PARLIAMENTARY ELECTIONS
Smiley was assigned last summer to lead a Kandahar-based command with a mission to train and advise Afghan security forces and help with counterterrorism operations in southern Afghanistan.
Fox News' Ellison Barber, Lucas Tomlinson and The Associated Press contributed to this report.