US envoy accuses Russia of allowing Syria to deny needed aid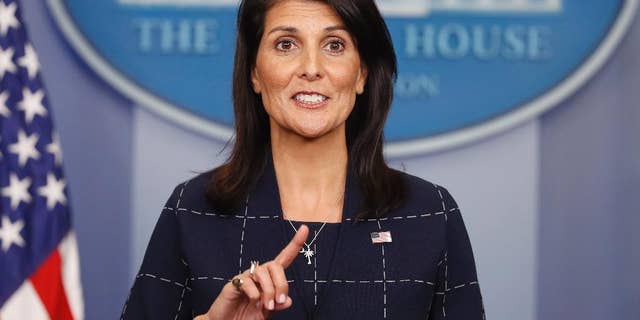 NEWYou can now listen to Fox News articles!
UNITED NATIONS – U.S. Ambassador Nikki Haley is accusing Russia of providing cover for the Syrian regime's use of chemical weapons and its denial of desperately needed aid for hundreds of thousands of besieged people, and is urging international pressure on Moscow "to stop this."
Russia's deputy U.N. ambassador Petr Iliichev retorted that Russia, Turkey and Iran are working to ensure compliance with a cease-fire in Syria — and the U.S. and its Western allies didn't say a single word about what they are doing to improve the situation.
The exchange took place during the monthly Security Council meeting on the humanitarian situation in Syria.
U.N. humanitarian chief Stephen O'Brien told Thursday's council session that the humanitarian situation is deteriorating, and he decried "starve and surrender" tactics being used primarily by the government.