US Embassy in Cairo open while British, Canadian embasssies close over security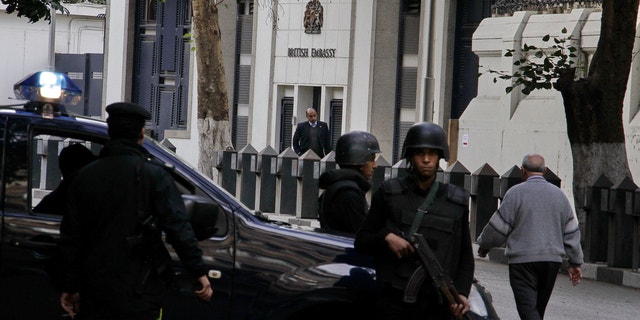 CAIRO – The U.S. Embassy in Cairo remains open Monday, despite the Canadian Embassy closing and the British Embassy suspending service over security concerns.
U.S. Embassy in Cairo spokesman Mofid Deak told Fox News Monday, "We're open…for now."
Last Thursday the U.S. issued a warning to citizens and diplomats, advising them not to "stray too far" from their homes and offices in Egypt.
The British Embassy closed its offices to the public Sunday and Monday, and a U.K. Foreign Office official told Fox News there are currently no plans to re-open. The Canadian Embassy announced its closure through a message on its main telephone number Monday. Both embassies are in Cairo's Garden City neighborhood.
The nearby U.S Embassy remained open. "We're taking things one day at a time," Deak said.
An Egyptian security official told The Associated Press that Canadians asked for all roads around the embassy shut down and more security. He said they would increase security, but the roads couldn't close. The official spoke on condition of anonymity as he wasn't authorized to speak to journalists.
An Islamic militant suspect, now in Egyptian custody, recently admitted to a plot to target embassies in Egypt, Reuters reported.
Egypt has been hit by series of militant attacks since last year's military ouster of Islamic President Mohammed Morsi. Al Qaeda and ISIS-linked Islamist groups are active in Egypt. One last week claimed responsibility for the killing of an American oil engineer.
Smaller bombs also regularly explode in Cairo and the Nile Delta, usually causing limited injuries.
Details on any exact threat to embassies were not clear, a security source told Reuters Sunday. But another source, who spoke on condition of anonymity, said Egyptian authorities recently detained a suspected militant, who confessed to plans to target foreign embassies.
Travel advice on the U.K.'s Foreign Office website warned of a "high threat from terrorism."
"Terrorists continue to plan attacks in Egypt. Attacks could be indiscriminate and occur without prior warning. Foreigners could be targeted in tourist resorts or other locations frequented by foreigners," the site says.
Fox's Greg Palkot and the Associated Press contributed to this report.