US drone strike kills 6 suspected militants in Pakistan, officials say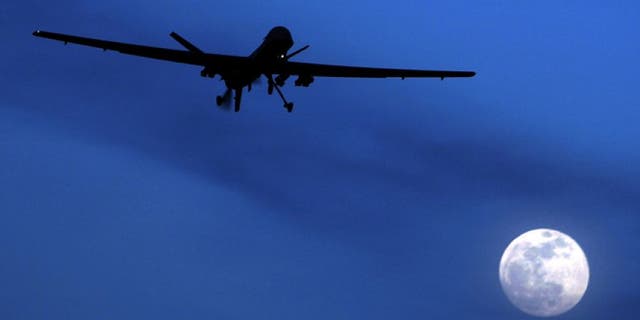 PESHAWAR, Pakistan – A pair of missiles launched by a U.S. drone hit a militant hideout near the Afghan border and killed six suspected militants, two Pakistani intelligence officials said Friday.
The officials said the missiles hit a sprawling compound early Thursday morning near the border town of Ghulam Khan in the North Waziristan tribal region.
The identity and nationality of the slain men was not immediately known, and agents were investigating, the officials said. They spoke on condition of anonymity because they were not authorized to brief reporters.
The area where the strike took place was believed to be a hiding place for the Afghan Haqqani network, the officials said. U.S. officials consider the Haqqani network to be one of the most dangerous militant factions fighting American troops in neighboring Afghanistan.
North Waziristan is a tribal region home to a mix of Pakistani, Afghan and al-Qaida-linked foreign militants.
The U.S. drone program causes extreme tension between Pakistan and the United States, though some Pakistani officials privately acknowledge the need for the strikes as its military rarely patrols the area. Washington says it needs to use the unmanned aircraft because Pakistan refuses to engage the fighters.
Thursday's strike came less than a week after a U.S. drone killed three foreign militants in an abandoned seminary in the same region.
Pakistan strongly condemned previous strikes, calling them "unilateral" and a violation of country's sovereignty and territorial integrity. On Friday, Pakistan's foreign ministry again called for an end to the drone attacks, saying such "strikes are counter-productive, entail loss of innocent civilian lives and have human rights and humanitarian implications."
"Such strikes also set dangerous precedents in the inter-state relations," the ministry said in a statement.