US diplomat: Utah man jailed in Venezuela blocks dialogue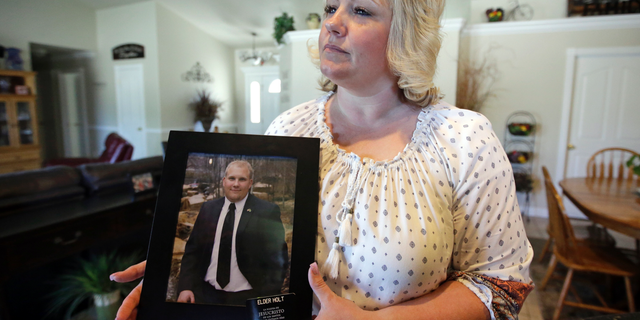 CARACAS, Venezuela – The Trump administration's top diplomat in Venezuela pressed for the release of a jailed Utah man Thursday, saying the case is the main obstacle to improving strained relations between the two countries.
Todd Robinson told The Associated Press it is a "tragedy" that Joshua Holt has been imprisoned the past 19 months on what the U.S. considers trumped-up charges. The diplomat said he is holding Venezuelan Foreign Minister Jorge Arreaza personally responsible if anything that happens to Holt while in jail.
"I believe he can and he must resolve the situation," Robinson said of Arreaza. "If he truly wants to talk about the other important issues between the United States and Venezuela, we can do that, but only after Joshua Holt is free."
Holt has languished in a Caracas jail cell since June 2016 when he was arrested on weapons charges during a visit to Venezuela to get married. Holt met his wife, Theresa Caleno, in an online website for Spanish-speaking Mormons. She also remains jailed as an alleged accomplice.
Venezuela authorities allege Holt used his wife's apartment in Caracas to stockpile weapons and have linked him to unspecified attempts by the U.S. to undermine President Nicolas Maduro's rule amid deep economic and political turbulence. Holt's family says an assault rifle and a grenade found in the apartment were planted.
The case has become a major thorn in relations between the U.S. and Venezuela, which were already tense from previous U.S. administrations. The Trump administration has slapped sanctions on dozens of senior Venezuelan officials with the goal of weakening Maduro's grip on power.
Arreaza's office and the Ministry of Communications did not respond to requests for comment.
A senior administration official in Washington said U.S. officials fear it is unlikely Holt will be released as long as Maduro remains in power, calling the prisoner a political hostage. The official agreed to discuss the case only if not quoted by name because he wasn't authorized to publicly discuss U.S. policy on Venezuela.
"I don't see any scenario where they just up and return him," the official said, adding that President Donald Trump is personally following the case.
Since landing in Venezuela six weeks ago, Robinson hasn't shied from taking jabs at Maduro's socialist administration.
Days after he arrived in Caracas, the U.S. Embassy posted a comment on Twitter calling the new National Constituent Assembly "illegitimate," saying it engages in undemocratic practices and is "inventing rules" as it goes. The president of the pro-government constitution-writing assembly, Delcy Rodriguez, retorted that Robinson was beginning his diplomatic assignment on "the wrong foot."
The U.S. diplomat has lobbied hard for Holt's release, raising it in his first face-to-face meeting with Arreaza and tweeting about his plight three times.
Venezuela and the United States haven't exchanged ambassadors since 2010, so Robinson holds the position of chief of mission in the U.S. Embassy in Caracas, while preserving his ambassadorial rank.
Robinson has led a long diplomatic career specializing in Latin America, serving as ambassador to Guatemala for three years until September. Along the way, he earned a reputation for speaking out and several times faced calls for his expulsion from past assignments.
He has made his presence known in Caracas, first posting a video on the embassy's website introducing himself to the Venezuelan people. He has also posted photos touring Bolivar Plaza, a gathering place for pro-government die-hards, and he also attended a baseball game.
___
Associated Press writer Joshua Goodman in Washington contributed to this report.