US diplomacy suffers a setback in Lebanon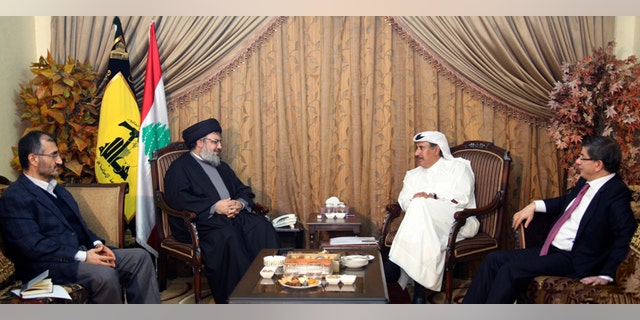 BEIRUT – American diplomacy in the Middle East suffered a setback Wednesday when U.S. ally Saudi Arabia abandoned efforts to mediate the political crisis in Lebanon, where the militant group Hezbollah has toppled the Western-backed government.
The withdrawal of Arab powerhouse Saudi Arabia is the latest sign that the competition over influence in Lebanon is tipping in favor of Hezbollah and its patrons Iran and Syria.
In an interview Wednesday with the Saudi-owned Al-Arabiya TV, Foreign Minister Saud al-Faisal said the Saudi king has decided he is "withdrawing his hand" after months of diplomatic efforts failed to calm tensions. He did not elaborate.
The political crisis stems from a U.N. court's investigation of the 2005 assassination of former Lebanese Prime Minister Rafik Hariri, a Sunni leader who was a close ally of the Saudis.
Hariri was a dual Saudi-Lebanese national with very close ties to the Saudi royal family.
The court, which is widely expected to accuse the Shiite Hezbollah, filed a sealed draft indictment Monday, touching off a process many fear could ignite new bloodshed nearly six years after the massive truck bombing along Beirut's waterfront that killed Hariri.
Hezbollah denies any role in Hariri's killing and forced the collapse of the government last week when Prime Minister Saad Hariri — the son of the slain leader who also has dual Saudi-Lebanese citizenship — refused to renounce the tribunal and pull Lebanon's funding for the court.
The militant group says the tribunal is a conspiracy by Israel and the United States.
The collapse of the Western-backed government was a blow to the United States and its Arab allies, including Saudi Arabia and Egypt.
U.S. State Department spokesman Mark Toner referred questions about Saudi Arabia's withdrawal to officials in the kingdom, but said "we will continue working with international partners, including Saudi Arabia, to support the Lebanese people in their efforts to further their sovereignty, stability, and independence."
The U.S.- and Saudi-backed coalition known as March 14 issued a statement Wednesday saying Hezbollah and its allies are trying to turn Lebanon into an "Iranian base" in the region.
On Wednesday, Iranian President Mahmoud Ahmadinejad said Lebanon must keep "evil hands" from meddling in its affairs — a clear reference to the U.S. and its allies that support the U.N. investigation into Hariri's assassination.
"Hands off Lebanon," he told supporters in the central Iranian city of Yazd. "If you don't stop, the nation of Lebanon and other nations in the region will cut off your dirty hands."
The U.S. has called Hezbollah's walkout a clear effort to subvert justice. But the rival factions in Lebanon are growing more polarized despite mediation by Turkey, Qatar and Syria.
On Tuesday, Hezbollah rattled nerves with a quiet show of force in the streets of Beirut amid fears the group will react violently if the court accuses members in Hariri's death.
Hezbollah supporters wearing black and clutching hand-held radios quietly gathered around Beirut — an innocuous yet threatening display by the country's most powerful armed force. Many parents picked up their children from school as word spread of the gatherings.
Many fear the political crisis could lead to street protests and violence that have been the scourge of this tiny Arab country of 4 million people for years, including a devastating 1975-1990 civil war and sectarian battles between Sunnis and Shiites in 2008.
The Hague-based tribunal released a sealed indictment in the case Monday, but its contents may not become public for weeks as Belgian judge Daniel Fransen decides whether there is enough evidence for a trial.
Lengthy negotiations lie ahead between Lebanon's factions as they attempt to build a new government. On Tuesday and Wednesday, Turkey's foreign minister was in Beirut in a coordinated visit with Qatar's prime minister to discuss the political crisis in Lebanon.
The officials met with Saad Hariri — who is staying on as a caretaker prime minister — and, separately, with Hezbollah leader Sheik Hassan Nasrallah.
Hariri also spoke by telephone with the Saudi Foreign Minister following the latter's announcement that king Abdullah withdrew his country from talks on Lebanon. A statement from Hariri's office said al-Faisal spoke of his country's support for the stability in Lebanon, but it gave no further details.
Also Wednesday, a security official said the army tightened security in areas of Beirut where Hezbollah supporters gathered a day before.
The official, speaking on condition of anonymity in line with military regulations, said troops deployed at intersections and under bridges because "any security breach at this time of high tensions can transform the streets of Beirut into a battle scene."
___
Associated Press reporters Zeina Karam in Beirut and Matthew Lee in Washington contributed to this report.