US conducts drone strike against al-Shabab in Somalia
U.S. forces on Saturday conducted an airstrike in Somalia against al-Shabab, killing one enemy combatant in the fourth consecutive day of drone strikes, the military said.
The operation took place near Gaduud, about 250 miles southeast of the capital, Mogadishu.
"Prior to this strike, U.S. forces observed the al-Shabab combatant participating in attacks on a U.S. and Somali convoy," according to a statement from the U.S. Africa Command.
Al-Shabab, which has pledged allegiance to Al Qaeda and is resolved to providing a safe haven for terrorist attacks throughout the world, has publicly committed to attacking U.S. forces and its partners in the region.
There have been 23 other airstrikes carried out this year against the militant group and the far smaller Islamic State group in Somalia, the U.S. military reports.
In October, it also conducted strikes against ISIS in Yemen for the first time—days after the ISIS so-called capital in Raqqa, Syria had been recaptured by US-backed forces.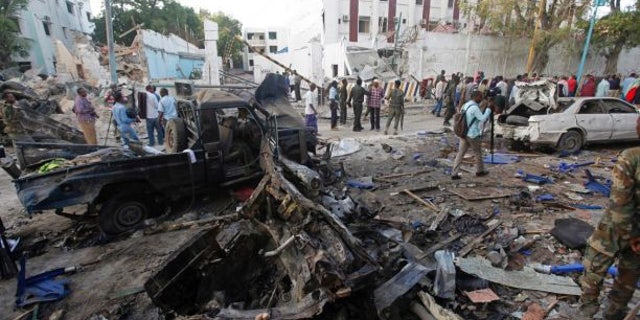 US DRONE STRIKE IN SOMALIA KILLS SEVERAL MILITANTS
The Trump administration approved expanded military operations earlier this year against extremists in the Horn of Africa nation.
In March, President Trump signed a command allowing the military to carry out airstrikes in Somalia against the militant group.
Al-Shabab has been blamed for the massive truck bombing in Mogadishu last month that killed more than 300 people. The deadly Oct. 14 attack signals the jihadist group was still prevalent in the African nation. It was Somalia's worst-ever attack and one of the world's deadliest in years.
Fox News' Lucas Tomlinson contributed to this report.