US commander: Mosul and Raqqa should be retaken in 6 months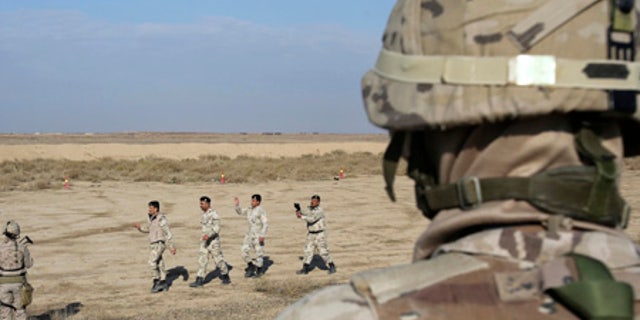 Forces fighting the Islamic State group should be able to retake the ISIS-held cities of Mosul in Iraq and Raqqa in Syria within the next six months, according to the top U.S. commander in Iraq.
RUSSIA SENDS SYRIA ITS LARGEST MISSILE DELIVERY TO DATE, OFFICIALS SAY
First, the military should have Raqqa surrounded in the "next few weeks," Baghdad-based U.S. military spokesman Col. John Dorrian told reporters Wednesday.
"Raqqa is a city that the enemy uses for external operations, so what we would expect is that within the next few weeks, the city will be nearly completely isolated," giving troops the opportunity to move in, Dorrian said.
CENTCOM PUSHES BACK ON REPORT YEMEN ASKED TO STOP GROUND MISSIONS
On a tour north of Baghdad Wednesday, U.S. Army Lt. Gen. Stephen Townsend said "within the next six months I think we'll see both (the Mosul and Raqqa campaigns) conclude."
Townsend, who heads the U.S.-led coalition against ISIS, said Iraq's military was still in the process of putting forces into place ahead of the push into western Mosul.
Still, he predicted operations would begin "in the next few days," The Associated Press reported.
Iraqi forces declared Mosul's east "fully liberated" in January after launching the operation to retake the city in October.
Fox News' Lucas Tomlinson and The Associated Press contributed to this report.