Uruguay rejects ultimatum by ex-Guantanamo detainee on hunger strike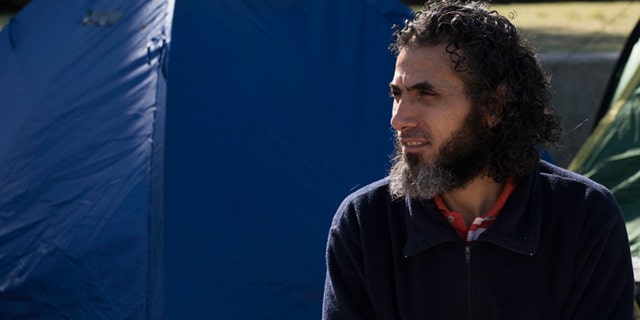 BUENOS AIRES, Argentina (AP) – Uruguay's government on Monday rejected an ultimatum from a former Guantanamo prisoner who is on a hunger strike demanding to leave the South American country.
Abu Wa'el Dhiab has been on a hunger strike for more than a month to press his demands to leave Uruguay, which took him in along with five other former Guantanamo prisoners in 2014. He wants to join his wife and children in Turkey, where they are refugees, or in another nation.
Dhiab gave the government until Sunday to deliver a proposal for him leaving. But Christian Mirza, the government's liaison with the six resettled detainees, said there was nothing concrete to offer him yet.
"The ultimatum and the last video that he recorded didn't go well" with officials, Mirza said before entering the apartment where Dhiab has been living in Montevideo.
Mirza said Lebanon, Qatar and Turkey have rejected taking in Dhiab.
Late in the day, a friend told reporters outside the apartment building that Dhiab would extend his deadline until next Monday to give the government more time. The friend, Alejandra de Bittencourt, also said Dhiab would drink water until that time.
Dhiab briefly fell into a coma last week and has been hospitalized twice, but asked to return to the apartment, where he continues to reject any food or liquid.
Late Friday, an activist group calling itself Vigil for Jihad Dhiab posted the latest in a series of YouTube videos it has made of Dhiab, this one showing him delivering his ultimatum while speaking in English.
He said he would resume drinking liquids if Uruguayan officials met his demand to help reunite him and his family within seven days. He gave the government until Sunday to respond.
Dhiab was released from the U.S. base at Guantanamo Bay, Cuba, in December 2014, but could not return to Syria due to the civil war there.
He had been detained as an enemy combatant with suspected ties to militants and was held for 12 years at Guantanamo although he was never charged. While there, he drew international attention by staging a lengthy hunger strike that threatened his health and frequently clashed with guards during his protest.