Up to 50 migrants found dead in abandoned truck in Austria, report says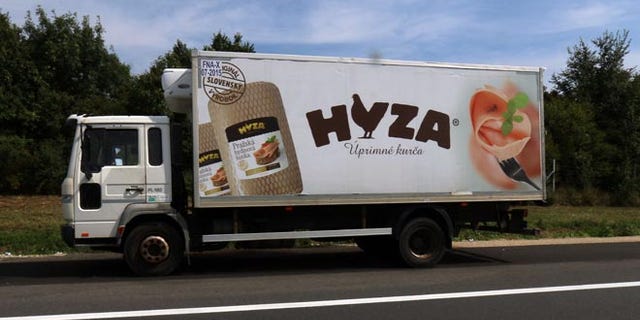 Police on Thursday discovered the partially decomposed bodies of at least 50 migrants piled up in a truck parked on the shoulder of an Austrian highway leading from the Hungarian border, Austrian officials say.
The state of the bodies made establishing the identity and exact number of dead migrants difficult, but the total number could rise to 50, said Hans Peter Doskozil, the chief of the Burgenland police. Doskozil said the truck had Hungarian license plates.
He said the truck was apparently abandoned Wednesday and its back door was left open, exposing the bodies to police.
Police stopped to inspect the vehicle shortly before noon Thursday thinking that the parked truck had some mechanical trouble. Then they "saw blood dripping" from the vehicle and "noticed the smell of dead bodies."
The truck was apparently abandoned Wednesday and its back door was left open. Police said the investigation could last for days. They declined to give further information on the victims' possible identities, whether children were among them, how the migrants may have died or other details.
Reports on the amount of bodies found inside the truck have ranged from 20 to about 50. It is unclear how long the bodies have been inside the truck.
Police ordered reporters converging on the scene about 25 miles southeast of Vienna, to move away from the vehicle, a white refrigeration truck with images of food items on it.
Interior Minister Johanna Mikl-Leitner condemned the traffickers.
"Human smugglers are criminals," she said in a statement. "Those who still think that they are gentle helpers of refugees are beyond saving."
The Associated Press contributed to this report