Unprecedented car-bomb attack on police by Mexican drug cartel puts border town on edge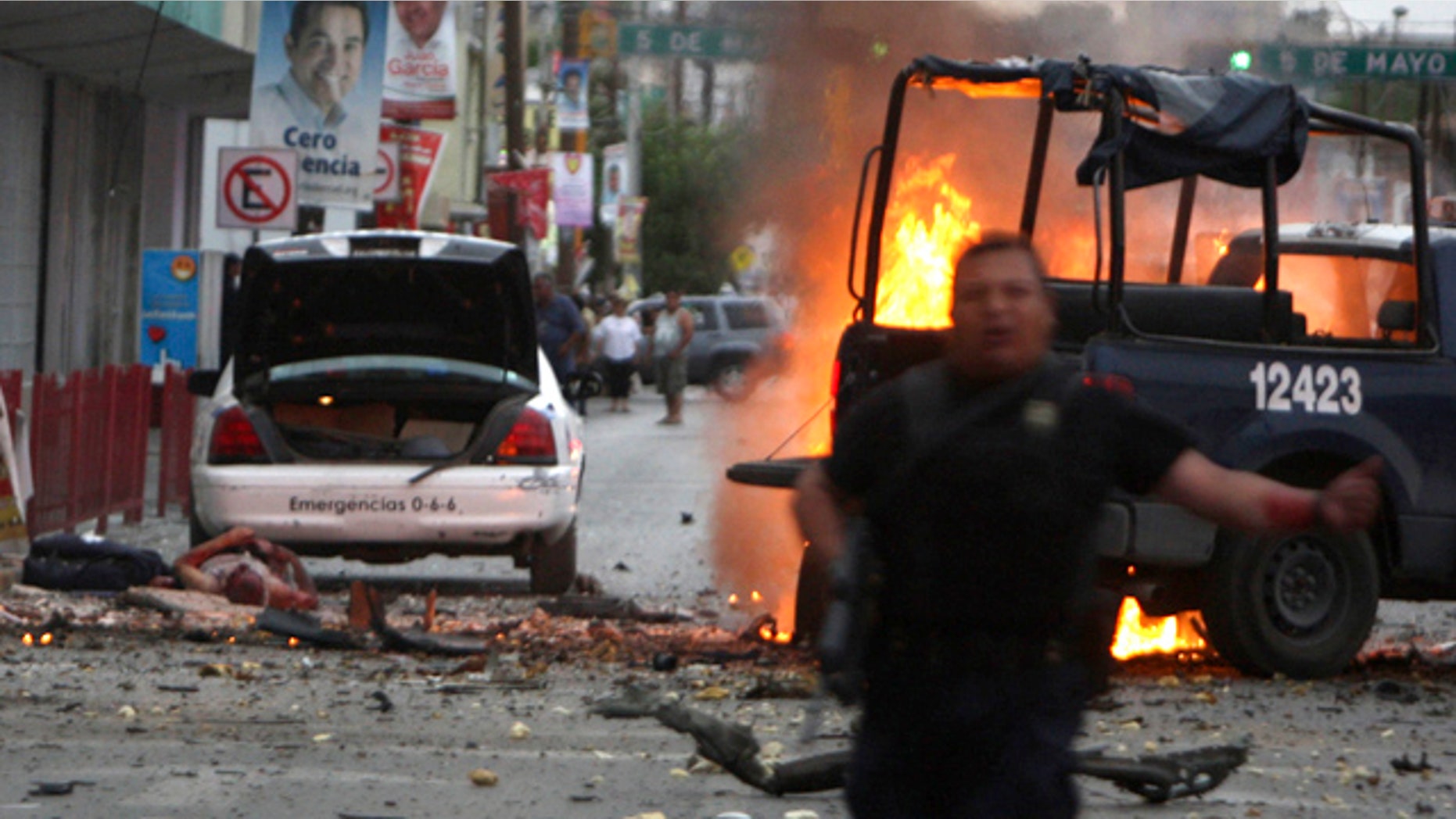 CIUDAD JUAREZ, Mexico – CIUDAD JUAREZ, Mexico (AP) — Mexican drug traffickers' first car-bomb attack against police has revealed a new level of cold-blooded planning that is forcing this border city and security forces to change the way they confront violence.
Police said Friday that La Linea drug gang — the same group blamed for the March killing of a U.S. consulate employee and her husband — lured federal officers and paramedics to the site of a car bomb by dressing a bound, wounded man in a police uniform and calling in a false report of an officer shot.
The gang then exploded a car holding as much as 22 pounds (10 kilograms) of explosives, killing the decoy, a rescue worker and a federal officer. A regional military commander said a cell phone might have been used to detonate the bomb.
The gang promised to strike again, with graffiti painted on the wall of a Ciudad Juarez shopping center. "What happened ... is going to keep happening against all the authorities," the message read. "We have more car bombs."
Mayor Jose Reyes Ferriz said city authorities "will have to change the way we operate. We've started changing all our protocols, to include bomb situations."
He fears such attacks could hit the morale of his already overworked police force.
"Having attacks, direct attacks, on the police department creates the possibility of police just retiring or quitting," he said.
Reyes Ferriz said at least 14 police officers or other law enforcement officials have been killed in the last few weeks in and around the city. The city has a police department of about 2,800 officers.
They are backed up by as many as 5,000 federal police, one of whom died in the Thursday car-bombing. The security equation has shifted for them too.
Civilian Ciudad Juarez residents also were emotionally shaken by the bombing, which scattered debris over a 300-yard (300-meter) radius and blew out the windows of a nearby home.
Ciudad Juarez, across from El Paso, Texas, has become one of the most dangerous cities in the world, with more than 4,000 people killed since the beginning of 2009.
Police said Thursday's attack was in retaliation for the arrest of a top leader of the La Linea drug gang, Jesus Acosta Guerrero, earlier in the day.
Police said Acosta Guerrero, 35, was the "operations leader" of La Linea, which works for the Juarez drug cartel. He was responsible for at least 25 killings, mainly of rival gang members, and also ordered attacks on police.
Drug cartel battles have resulted in the deaths of about 25,000 people since late 2006 in Mexico.
While cartels have often used grenades and high-powered rifles against police and soldiers, Thursday's attack was the first time a cartel has successfully used a sizable bomb to attack security forces.
Brig. Gen. Eduardo Zarate, the commander of the regional military zone, said as much as 22 pounds (10 kilograms) of explosives might have been used in the attack, adding that burned batteries connecting to a mobile phone were found at the scene.
Meanwhile in the northeastern border city of Nuevo Laredo, 12 people were killed and 21 wounded in running gun battles between soldiers and cartel gunmen on Friday.
Gunmen blocked some streets with hijacked vehicles at the height of the battles, which occurred at least three points in the city, prompting the U.S. Consulate to warn American citizens in the city to remain indoors.
Seven of the 21 wounded were listed in serious condition, the federal interior department said in a news statement, and three of the seriously wounded were children apparently caught in the crossfire.
The dead included nine suspected gunmen, two civilians and one soldier. Nuevo Laredo has been the scene of viscous turf battles between the Gulf cartel and their former allies, the Zetas drug gang.
___
E. Eduardo Castillo reported from Mexico City.