University of Puerto Rico Chancellor Attacked by Protestors, Video Shows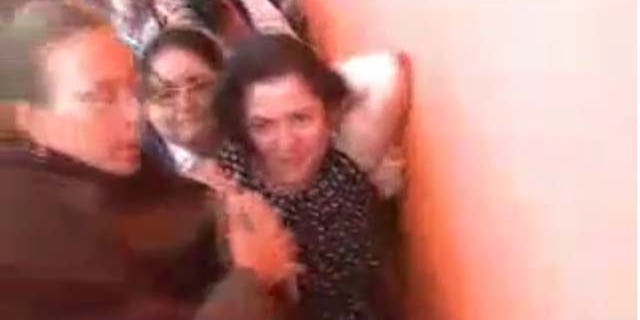 Authorities investigating the apparent attack of a University of Puerto Rico chancellor – seemingly by a mob of protestors – said arrests are imminent.
Chancellor Ana Guadalupe was swarmed by students and protestors in the university's School of Architecture Monday afternoon, according to a video shown by local television stations. The footage shows Guadalupe's hair being yanked at least once, someone dousing her with what appeared to be water, and an angry crowd surrounding her as guards ferry her to a security vehicle.
Police are reviewing the video and interviewing witnesses to zero in on those responsible for escalating the protest.
El Nuevo Dia, a daily newspaper in Puerto Rico, said two students have been identified by authorities as possible suspects. Primera Hora, meanwhile, another local newspaper, said investigators interviewed Guadalupe and collected her clothes to examine, among other things, the liquid that was thrown on her.
Eleven people were injured, Primera Hora reported. The newspaper also said that a student, Ibrahim García, was facing charges for assaulting Jorge Rodríguez, head of university security.
Gov. Luis Fortuño, a staunch opponent of the student movement, denounced the violence.
"This type of attack will not be ignored," he said, according to Wapa TV, a local news station. "We will not permit a minority to disrespect the university and all Puerto Ricans with their acts of violence."
The alleged attack is the latest in a heated and sustained battle that centers around the university's imposition this semester of a so-called special fee of $800. Students and protestors have clashed with police on several occasions.
To this point, the student movement had managed to win the public relations war by utilizing Facebook, Twitter and YouTube to get their message out in the absence of national media attention. Their cause has even drawn support from Illinois Rep. Luis Gutiérrez, who twice delivered a speech in Congress to bring attention to the alleged abuse.
The apparent violence in the video, however, forced activists who otherwise support the protests cause to speak out against the students. Pedro Julio Serrano, a human rights activists and former UPR student, for example, said that while he backs the students' movement, he had zero tolerance for aggressive tactics.
"Violence, be it verbal or physical, has no place in our society," he said, according to Wapa TV. "I support the student struggle against the special fee and their right to protest, but nothing justifies the acts of violence [on Monday] at the UPR."
You can reach Wil Cruz at wil.cruz@foxnewslatino.com.
Follow us on twitter.com/foxnewslatino
Like us at facebook.com/foxnewslatino