Unidentified hero saves man from burning house in Fresno, then vanishes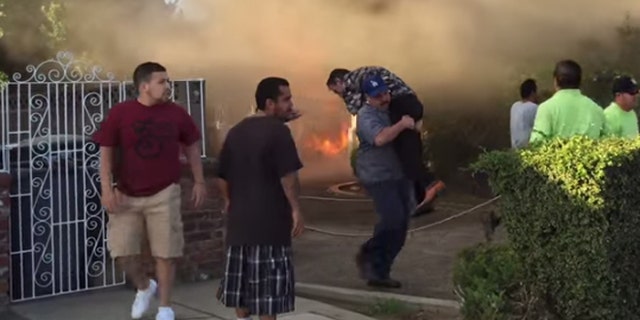 A video recorded by a witness to a fire shows a remarkable act of courage and humility by a man who rescued a victim from a house engulfed in raging flames.
The man who was rescued, 73-year-old Robert Wells, was attached to an oxygen tank at his Fresno, Calif. home when the stranger came running in and tossed him over his shoulder.
Neither Wells nor Fresno fire officials knew the identity of the rescuer, a stocky man with a mustache who has since vanished.
"I wasn't going fast enough, so a guy picked me up and carried me out there. He was kind of in a half a run," Wells told the ABC local station (KFSN).
"Thank you from the bottom of my heart," added Wells, who was being treated in a local hospital.
The two-alarm fire started around 8 a.m. Sunday.
Beth Lederach told the Fresno Bee that she was driving by when she saw the duplex in Fresno engulfed in flames. She pulled over, called 911 and began shooting video with her phone.
A woman standing on the sidewalk holding a baby was shouting that her father, who had been hooked up to an oxygen tank, was still inside.
"I was pretty shaken up about it," Lederach told the newspaper. "As I got out of the car, this woman came up with this baby and said, 'My dad is in there! My dad is in there!' I didn't know what to do. I felt so helpless."
The flames then surged and several people who had been trying to help ran down the driveway.
They were followed by a stocky man with a mustache wearing jeans and a Los Angeles Dodgers cap who had the woman's father over his shoulder.
"I couldn't believe it," Lederach said. "I was so relieved, I just wanted to cry."
Firefighters then arrived and had the blaze out within about 20 minutes, fire Capt. Kris Townsend told the Bee.
The blaze apparently started in a garage and did an estimated $100,000 in damage, he said.
The Associated Press contributed to this report.
Follow us on twitter.com/foxnewslatino
Like us at facebook.com/foxnewslatino