UN Syria resolution 'fails to ensure justice': HRW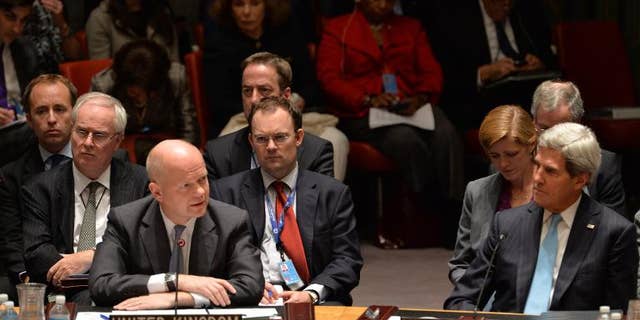 Beirut (AFP) – Human Rights Watch on Saturday criticised a hard-won UN Security Council resolution ordering the destruction of Syria's chemical arsenal for failing to deliver justice for the conflict's victims.
"This resolution fails to ensure justice for the gassing of hundreds of children and many other grave crimes," said the New York-based watchdog's United Nations director, Philippe Bolopion.
Bolopion renewed HRW's longstanding call for the UN to "refer the situation in Syria to the International Criminal Court (ICC), and adopt targeted sanctions against those responsible for mass killings."
Britain and France had pressed for Friday's resolution to refer August 21 gas attacks in the Damascus suburbs to the ICC in The Hague.
But their calls were rebuffed by Damascus ally Moscow, which had vetoed three previous draft resolutions on the Syrian conflict since it erupted two and a half years ago.
Instead the resolution expressed "strong conviction" that those responsible for chemical weapons attacks in Syria "should be held accountable."
HRW said it was vital that the world not lose sight of the fact that the great majority of deaths in the Syrian conflict were the result of conventional and not chemical weapons.
"Efforts to destroy Syria's stockpile of chemical weapons are essential, but do not address the reality that conventional weapons have killed the overwhelming majority of the estimated 100,000 people who have died in the conflict," Bolopion said.
"If the killing of civilians by conventional weapons continues unabated, the chemical weapons resolution will be remembered as an effort to draw red lines, not save civilian lives."
HRW said Syrian government troops have used a host of other banned weapons in the conflict, such as cluster bombs and landmines.
They must also "stop using air-dropped incendiary weapons in populated areas", the group said.
Similar concerns were expressed by UN chief Ban Ki-moon, who insisted the resolution was not "a licence to kill" with conventional arms.
"All violence must end. All the guns must fall silent," Ban said.
"A red light for one form of weapons does not mean a green light for others."