UN scrambles aid as Syrians flood into Iraqi Kurdistan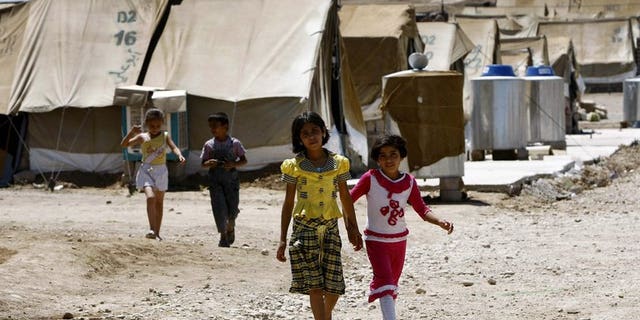 GENEVA (AFP) – The UN refugee agency said Friday it was scrambling aid in northern Iraq after thousands of Syrians crossed the tightly-controlled border in a sudden and unexplained influx.
The vast majority of the new arrivals were women, children and elderly people from embattled Aleppo in northwestern Syria or communities in the northeast, closer to Iraq.
UNHCR spokesman Adrian Edwards said 750 people initially crossed the Tigris River at Peshkhabour in Iraqi Kurdistan on Thursday, followed by a huge crowd of between 5,000 and 7,000.
UNHCR and other aid agencies, along with local authorities, rushed food and water to the site, and were working round the clock to build a camp away from the border zone for the new arrivals.
"The factors allowing this sudden movement are not yet fully clear to us," Edwards told reporters. "Both the Syrian and Iraqi sides of the frontier at Peshkhabour are normally tightly controlled."
Syrian war refugees' access to Iraq has been erratic, with local political tensions and fears of a spillover of the conflict leading Kurdistan region authorities to shut the border in May.
Some restrictions were eased last month to allow Syrians stuck in their homeland to join family members already in Iraq, but numbers seeking to cross the border had remained relatively low.
It was not clear whether the new arrivals were from Syria's long-marginalised Kurdish minority, which has walked a fine line since the conflict erupted in 2011.
Syria's Kurds have tried to avoid antagonising forces loyal to President Bashar al-Assad or rebels fighting to overthrow him, but there has been fierce fighting in recent weeks between Syrian Kurdish forces and the Islamist Al-Nusra Front, which is also fighting Assad.
Earlier this month, Iraqi Kurdistan's leader threatened to intervene to protect Kurds in Syria.
According to the United Nations, Iraq hosts more than 160,000 registered Syrian refugees, most of whom are Kurds.
All told, more than 1.9 million Syrians have fled their homeland's civil war, with most seeking a haven in Lebanon, Jordan and Turkey.