UN roundly condemned for blacklist of companies doing business in Israeli settlements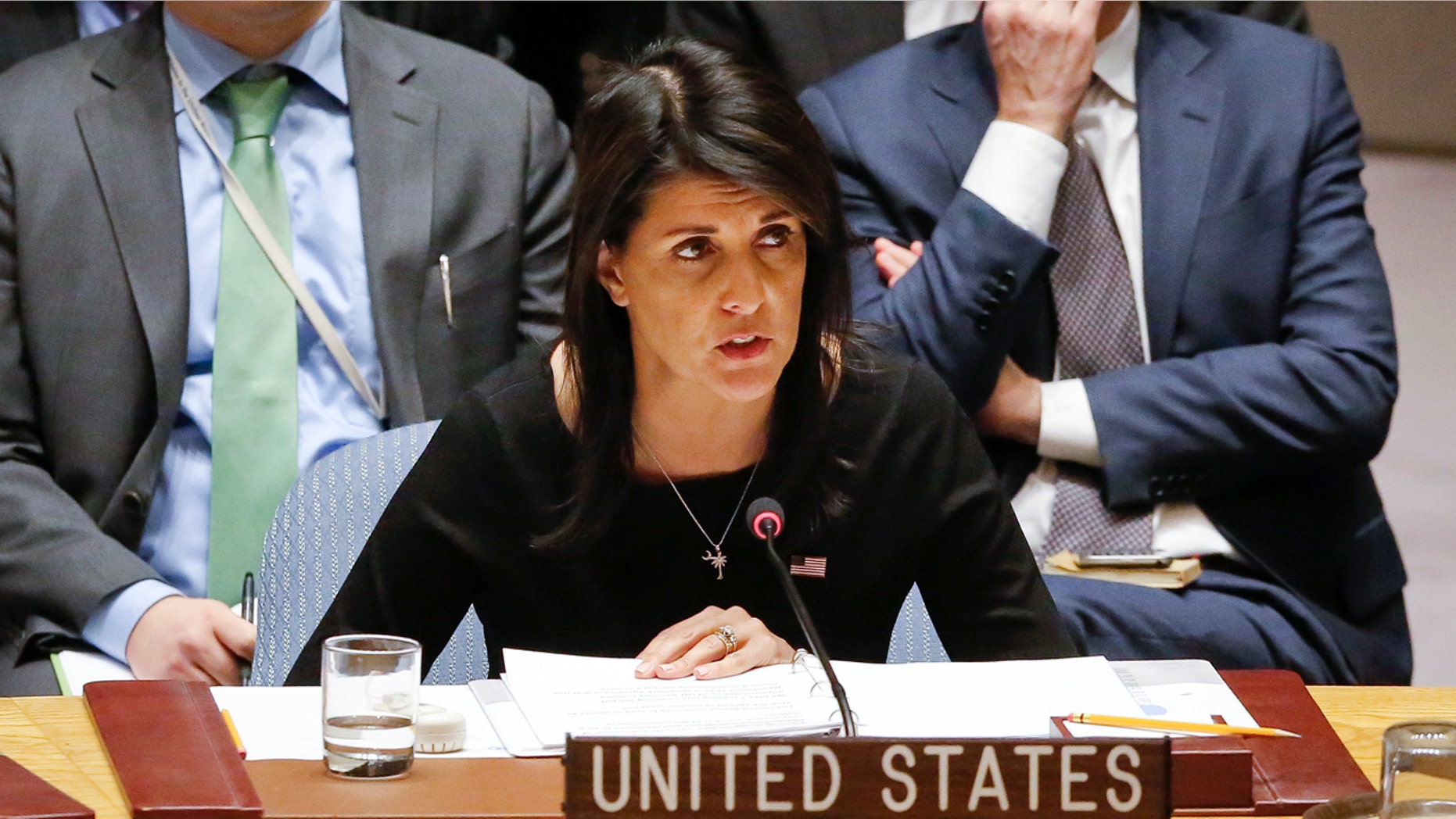 A report released by the U.N.'s Office of the High Commissioner for Human Rights (UNHRC) Wednesday, which seeks to make a database of companies doing business in Israeli settlements, was roundly condemned.
In a statement from United States Ambassador to the U.N., Nikki Haley said the report is "the latest anti-Israel actions taken by the Human Rights Council."
Haley said, "This whole issue is outside the bounds of the High Commissioner for Human Rights office's mandate and is a waste of time and resources."
Haley's statement said the report was another example of the council's "anti-Israel obsession."
Haley noted that, "The more the Human Rights Council does this, the less effective it becomes as an advocate against the world's human rights abusers. The United States will continue to aggressively push back against the anti-Israel bias, and advance badly needed reforms of the Council."
Israel's Ambassador to the world body, Danny Danon, called it a "blacklist."
In a statement before his speech to the United Nations marking the victims of the Holocaust, Danon slammed the announcement.
"On the day that the U.N. is marking International Holocaust Remembrance Day, the UNHRC has chosen to publicize this information about the number of companies operating in Israel."
Danon continued, "This is a shameful act which will serve as a stain on the UNHRC forever. We will continue to act with our allies and use all the means at our disposal to stop the publication of this disgraceful blacklist."
Speaking later on at the U.N. General Assembly Holocaust Remembrance event, he said the blacklist goes back to centuries-old, anti-Semitic boycotts: "The information published today by the Human Right's Council is more of the same. The Human Rights Council will now join history's infamous list of anti-Semites and bigots, who ultimately failed in their attempts to devastate the Jewish people."
Earlier Wednesday the U.N.'s Human Rights' office issued the report which it said detailed a database of business enterprises "engaged in certain, specific activities in the occupied Palestinian territory that are explicitly linked to Israeli settlements."
It stated that it enabled and supported the expansion of residential communities "beyond the green line."
The Human Rights Council, which the U.S. has threatened to leave, is known to be one of the most anti-Israel organizations within the United Nations. The database was set up by one of its many resolutions against the Jewish state.
The report said that it had "screened" 206 companies out of a total of 321 by the end of 2017. The majority of the companies were Israeli, followed by 22 U.S. companies and others from 19 countries.
Wednesday's report stopped short of naming the companies, but said upon engaging with all the companies and based on its determinations, it will release the names at a later date.
The report in part stated, "Businesses play a central role in furthering the establishment, maintenance and expansion of Israeli settlements." In what could be interpreted as a veiled threat to companies thinking about any future business investments there, the report said, "Business enterprises may need to consider whether it is possible to engage in such an environment in a manner that respects human rights."
Prince  Zeid Ra'ad al-Hussein, the U.N. High Commissioner for Human Rights, said following the report's release that **it was produced in good faith, and that, "We hope that our work in consolidating and communicating the information in the database will assist states and businesses in complying with their obligations and responsibilities under international law."
Anne Herzberg of Israel-based NGO Monitor, which has been at the forefront fighting against the blacklist, said, "For more than a year, NGO Monitor has repeatedly warned that there are significant due process concerns with the creation of a U.N. blacklist of companies. In his report and in announcing previous delays, the high commissioner acknowledged the centrality of these issues."
Herzberg, who is the group's legal advisor, said, "NGOs, including Human Rights Watch, Amnesty International, and Al-Haq, have been advocating for this discriminatory blacklist for many years to advance a BDS (Boycott, Divestment, Sanctions) agenda. However, this does nothing to further human rights, and the U.N. should not devote further resources to this charade."