UN inquiry head rejects N. Korea's 'honeyed words,' urges China not to veto ICC referral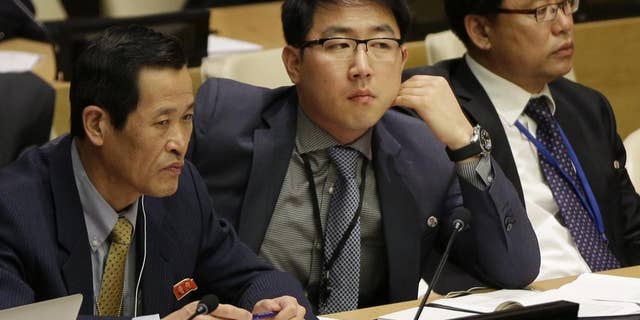 NEWYou can now listen to Fox News articles!
UNITED NATIONS – The head of the U.N. commission of inquiry on North Korea said Wednesday "a few honeyed words" by Pyongyang as it tries to avoid a referral to the International Criminal Court has not changed the human rights situation on the ground there.
Retired Australia justice Michael Kirby spoke to reporters a day after a new resolution was put before the General Assembly's human rights committee calling on the Security Council to refer the North's situation to the ICC.
It is the global community's strongest effort so far to take action on the North's dismal, documented rights record of sprawling political prison camps, starvation and mass executions.
The commission of inquiry report this year placed the North's record firmly in the international spotlight, and its officials have been attempting what Kirby called a "charm offensive" to avert any moves toward accountability.
North Korea has made several surprising moves in recent weeks, including releasing its own glowing report on its human rights record and sending its foreign minister to address the annual U.N. General Assembly of world leaders for the first time in more than a decade.
But Kirby said actions speak louder than words, and he pointed out that the North's human rights report described the North Korea refugees who spoke to the commission of inquiry as "human scum." The North did nothing to engage with the commission during its work, he said.
In the coming weeks, Kirby said, the United Nations is about to face a moment of truth" with the General Assembly resolution.
Kirby warned that China, a top Pyongyang ally that could veto a council referral to the ICC, will have to "stand before the world" if it does.
He pointed out that China has used its veto just 10 times since taking its permanent council seat as the People's Republic of China, and he said people shouldn't assume that China will use the veto now.
"The veto is now basically the way China does diplomacy," he said. He said his commission spoke with the Chinese embassy in Geneva repeatedly.
"We continue to hope that China, as a great power, will act as a great power," he said.
China, however, cast one of six "no" votes earlier this year as the U.N. Human Rights Council approved a resolution that allowed a special investigator to keep investigating suspected crimes against humanity and other abuses in North Korea.