UN envoy meets with US, Russia on Syria conflict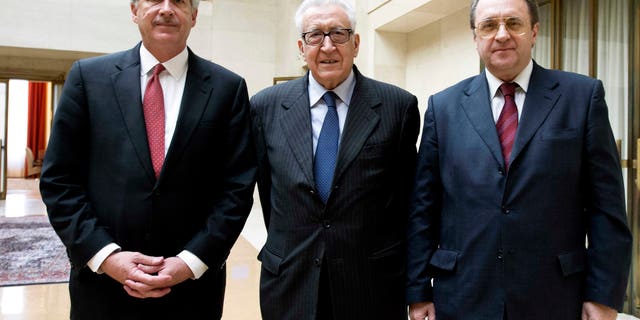 GENEVA – International envoy Lakhdar Brahimi is meeting with senior Russian and United States diplomats in an attempt to find a political solution to Syria's conflict, which has claimed more than 60,000 lives.
Brahimi, who is the joint U.N.-Arab League envoy for Syria, arrived Friday morning at the U.N.'s European headquarters and strode past a row of TV cameras and journalists without saying a word about the forthcoming discussion.
This is the second time in recent weeks that Brahimi has met with Russian Deputy Foreign Minister Mikhail Bogdanov and U.S. Deputy Secretary of State William Burns. Brahimi led them off to lunch after more than an hour of discussion in a closed room, with Bogdanov and Burns talking among themselves as they and their entourages navigated the U.N. corridors.
Russia has blocked several U.N. resolutions aimed at pressuring Syria's President Bashar Assad, but Moscow says it is not propping up his regime. Recently, top Russian officials have signaled they are resigned to Assad eventually losing power.
The conflict began in March 2011 with peaceful protests against Assad's family dynasty, which has ruled the country for four decades, but the intense crackdown on the uprising and armed rebel opposition soon became a civil war.
The U.N. says at least 60,000 people have been killed in the war and millions have fled their homes. So far, all international efforts to end the fighting have failed. Syria has accused Brahimi of "flagrant bias" after he called for real, not cosmetic, change in Syria and accused Assad of resisting the aspirations of his people.
The U.N. refugee agency said Friday that it is concerned about the severe winter conditions faced by some 612,000 Syrian refugees in Jordan, Lebanon, Turkey, Iraq and Egypt, and there has been no letup in the flow of thousands of people a day across the borders. "Many of those arriving have been barefoot, with their clothing soaked, and covered in mud and snow," agency spokesman Adrian Edwards told reporters in Geneva, referring to new refugee arrivals in Jordan.
Friday's meeting coincided with ground action in Syria during which Islamic militants took full control of a strategic northwestern air base. Activists said the militants seized helicopters, tanks and multiple rocket launchers from the base, which has been the biggest staging area for the government to distribute supplies to its troops and to bomb rebel-held areas in Syria's north.
The seizure was part of the rebels' campaign to topple the Syrian government's air supremacy. The base is near a highway between the capital, Damascus, and the northern city of Aleppo, a major front in the civil war.